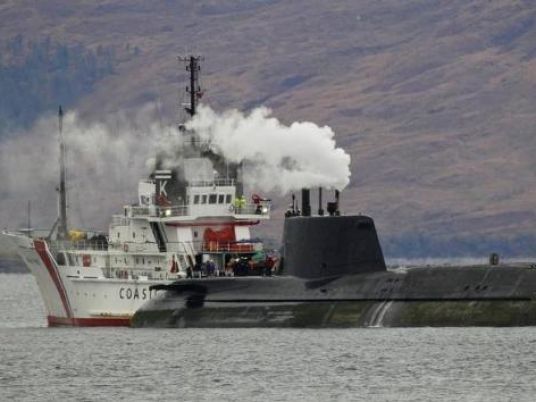 Prime Minister David Cameron's Conservative Party on Thursday promised to renew the country's ageing nuclear submarine fleet if it wins a May 7 national election, hoping the issue could prove an electoral problem for their main Labour rivals.
Replacing the vessels carrying the Trident missiles — four Vanguard-class submarines — is expected to cost 20 billion pounds with a final decision on the renewal due to be taken in 2016.
"The Conservative manifesto will guarantee that we will build a new fleet of four Successor ballistic missile submarines," Defence Secretary Michael Fallon wrote in the Times newspaper.
Under the current system Britain always has one nuclear submarine on patrol, making the country one of only two nuclear powers within the European Union, with the fleet based at the Faslane naval base near Glasgow, Scotland's biggest city.
Opponents argue replacing Trident could cost up to 100 billion pounds and Britain should consider cheaper alternatives.
The Conservatives have long supported renewing Trident, and since the 2010 election have resisted pressure from their junior coalition partners, the Liberal Democrats, to reduce the number of nuclear submarines.
The main opposition Labour Party reiterated on Thursday it would maintain a continuous-at-sea nuclear presence, although it has mooted the idea that three submarines could fulfil the same role.
With neither Labour nor the Conservatives forecast to win the election outright, Labour's most likely route to power is a deal with the Scottish National Party (SNP) who vocally oppose any renewal of the fleet.
SNP leader Nicola Sturgeon on Wednesday said her party would "never ever, ever" vote for a renewal of the Trident programme, potentially complicating post-election government-forming negotiations.
"The main argument is very simple: nobody could have predicted four or five years ago what Russia is now doing in Eastern Europe or the rise of ISIL (Islamic State)," Fallon told BBC radio. "We can't be clear what the threats are that might emerge in the 2030s, the 2040s and the 2050s."
He said Labour could not be trusted to stick to its pledge in negotiations with the SNP, launching a personal attack on its leader Ed Miliband.
Fallon said Miliband's decision in 2010 to challenge his own brother for the Labour leadership showed if he was prepared to betray his sibling then he was "willing to stab the United Kingdom in the back to become prime minister".
Labour's foreign affairs spokesman Douglas Alexander said the Conservatives were resorting to "politics of the gutter".
"This is not up for negotiation with the SNP or with any other party, I don't see how I can say it more plainly than that," he told BBC radio.