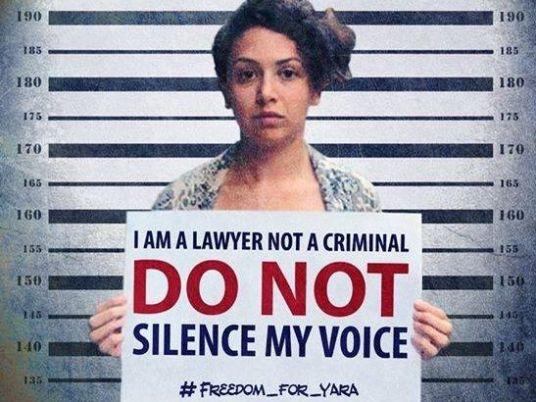 A campaign is seeking to collect signatures from lawyers worldwide in a
petition
to the United Nation's Secretary General, demanding pressure for the release of an Egyptian activist lawyer jailed for protesting laws regulating the right to demonstration.
Change.org, in a statement it said was made by attorneys from around the world, is demanding the release of activist and lawyer Yara Sallam and 23 others who were convicted of breaking protest laws during outside the Ettehadiya Presidential Palace in June 2014.
Sallam, 29, was sentenced along with 22 others to three years in October 2014, which was later reduced to two years.
The campaign added that the accusations against the activists were "baseless" and that the defendants had exercised their "legitimate right to demonstrate".
"The outcome of the court's decision affects not only Yara Sallam and other Egyptian human rights defenders, but it also impacts the promotion and protection of human rights in Egypt on a wider-scale," said the organization.
The petition urged the Egyptian government to release the activists, the UN not to support the current government and the international community to cease its military and development aid to Cairo.