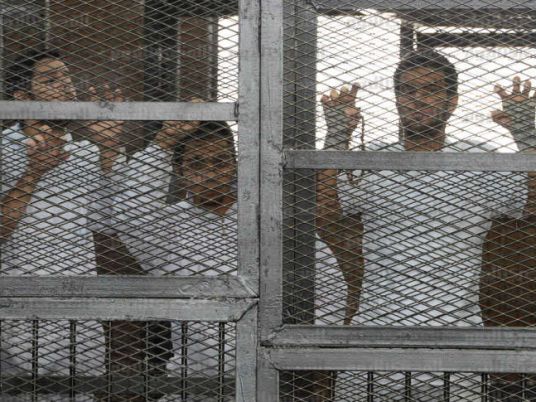 Canadian Foreign Minister John Baird was to meet with Egyptian leaders on Thursday to press for the release of a Canadian journalist imprisoned with two Al-Jazeera colleagues for more than a year.
Baird said last week that he was close to reaching a deal with Egypt on deporting Mohamed Fahmy, who was jailed with Australian Peter Greste and Egyptian Baher Mohamed after a trial that sparked global condemnation.
Negotiations for Fahmy's release were at a "critical phase," Baird said.
He was scheduled to meet his Egyptian counterpart Sameh Shoukry and then hold a press conference at around 0800 GMT before meeting President Abdel Fattah al-Sisi.
Fahmy and his two Al-Jazeera colleagues were convicted of aiding the blacklisted Muslim Brotherhood and defaming Egypt, and sentenced to between seven and 10 years in prison.
An appeals court this month ordered a retrial but kept them in custody.
The imprisonment of the journalists has embarrassed the Egyptian government, with Washington and the United Nations leading calls for their release.
Sisi, the former army chief who overthrew Islamist president Mohamed Morsi in 2013 and then won an election, has said he wished the journalists had been deported from the beginning.
He has since enacted a law that allows Egypt to deport foreign nationals standing trial in Egypt, or convicted of crimes, to their home country.
According to Fahmy's brother, a request has been submitted to have him deported from Egypt under the new law.
Greste's lawyer has submitted a similar request, while Mohamed's wife has said she also is looking at ways to get her husband out of Egypt.
Egyptian police arrested Fahmy, Greste and Mohamed in December 2013, at the peak of a diplomatic row between Cairo and Qatar, which owns Al-Jazeera.
The broadcaster had been critical of the deadly crackdown on Morsi's Muslim Brotherhood movement following the Islamist leader's overthrow.
Qatar has since moved to mend ties with Egypt and Al-Jazeera shut down its Arabic-language Egyptian affiliate channel, which supported the Muslim Brotherhood.