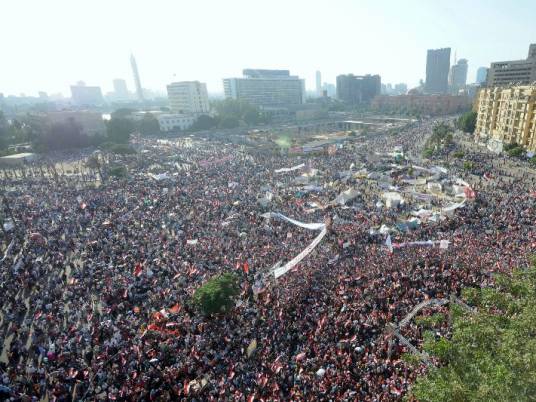 CBS News "60 Minutes" correspondent Lara Logan has been readmitted to a Washington, D.C., hospital, the network said on Tuesday, reportedly for complications stemming from the sexual assault she survived while covering Egypt's political uprising in 2011.
The Breitbart News website, citing sources close to Logan, said the 43-year-old journalist was still physically suffering from the attack she endured at the hands of a mob in Cairo's Tahrir Square on the day Egyptian ruler Hosni Mubarak stepped down from power.
"Very few people know how stoic and incredibly tough this lady is," Ed Butowsky, a close friend and confidant, was quoted as telling Breitbart.com.
A spokesman for "60 Minutes" confirmed in a statement that Logan had been hospitalized again on Monday in the nation's capital but did not reveal any circumstances.
"We were sorry to learn that Lara was readmitted to the hospital. We wish her a speedy recovery," spokesman Kevin Tedesco said.
Logan, a South Africa native and longtime war correspondent, was one of dozens of journalists attacked during several weeks of protests throughout Egypt leading up to Mubarak's ouster in February 2011. She was covering celebrations in Tahrir Square for "60 Minutes" when she and her team were surrounded by a mob and she became separated from her crew, according to CBS News.
After suffering a brutal and sustained sexual assault and beating by the mob, Logan was rescued by a group of women who intervened, along with Egyptian soldiers who finally arrived on the scene, CBS said.
Recounting the ordeal months later on "60 Minutes," Logan said she thought at the time, "not only am I going to die, but it's going to be just a torturous death that's going to go on forever."
Logan made her name as a correspondent for Britain's GMTV during the start of the U.S.-led Afghanistan war in 2001 and subsequently reported on the war in Iraq and its violent aftermath. She joined CBS News in 2002.
In November 2013, the network placed Logan on a leave of absence following a flawed "60 Minutes" report on the September 2012 attack on the U.S. diplomatic mission in Benghazi, Libya, which she based on a subsequently discredited account of the incident.