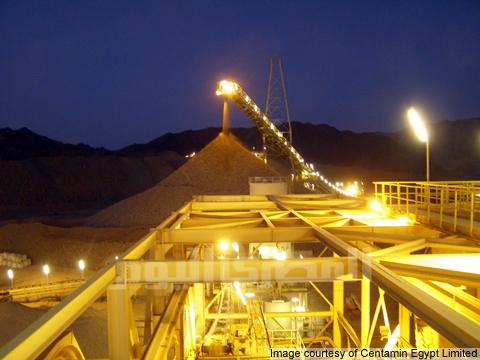 Egypt-focused gold miner Centamin said its activities and expansion plan were on track despite challenging political and fiscal conditions, labor unrest, and higher fuel costs.
Centamin, hit by temporary closures of its Sukari mine due to labor unrest, said on Tuesday it was sticking to a forecast for 2012 gold production to rise a quarter to 250,000 ounces.
It also said cash costs should come in at US$550 per ounce and the commissioning of the next phase of its expansion was on track for the first quarter of 2013.
Sukari, which started producing in 2009, is the first modern mine in Egypt, historically a big gold producer. Political upheaval in the country in the past 18 months has coincided with the company's expansion plans, prompting market concerns.
"We are in a very big ramp-up phase. Next year, production will be 350,000-360,000 ounces and greater again the following year. So, it is a big expansion program that we are on, and it is going according to plan," chairman Joseph al-Raghy said in an interview.
Centamin, which should be benefiting from an Egyptian subsidy for diesel, has been buying fuel on the international market to ensure uninterrupted supply, something it first said it was doing in March.
The higher fuel prices, which meant second-quarter cash costs were $729 per ounce, were being treated as prepayments, Centamin said, as it has been talking to the government about recovering the extra cost.
Egyptian fuel subsidies will be removed in the future, a move that analysts have priced into their models, and something that Raghy said could happen later this year.
"The impact of the fuel subsidy removal is clear … but it does not make this a marginal project," he said. "We will continue with our expansion plan, funded by cash flow."
Raghy said labor unrest at Sukari in eastern Egypt, which most recently caused production to stop for a week in July, would not have a material impact.
"It is part and parcel of operating mining projects worldwide. It is not peculiar to Egypt or post-revolution Egypt. We are not in a volatile or violent background. We are talking about this situation, it was 30 people out of a workforce of approximately 1,100, very small."
Centamin shares were up 1.6 percent to 69.8 pence at 1050 GMT.
"It looks positive to me. It is reassurance that they are on track on all fronts at the moment — cash costs, production guidance, stage four expansion, all three major points," Canaccord Genuity analyst Dimtry Kalachev said.
Centamin posted second-quarter pretax profit down 24 percent to $42.1 million, compared with a company-supplied consensus forecast of $43.8 million. It was hit by higher production costs and did not sell as much gold in the period as it produced.