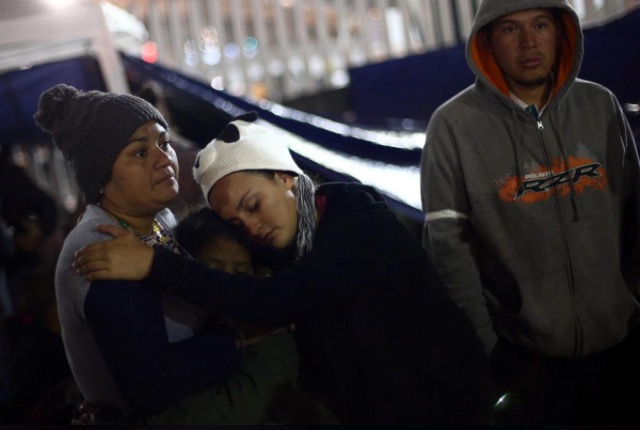 Hopes rose on Tuesday among a caravan of migrants who traveled from Central America to seek asylum in the United States after U.S. border authorities allowed the first small group of women and children entry from Mexico overnight.
Gathering people along the way, the caravan set off a month ago on a 2,000-mile (3,220-km) trek across Mexico to the U.S. border, drawing attention from American news media after President Donald Trump took to Twitter to demand such groups not be granted entry and urging stronger immigration laws.
Celebrations erupted on Monday night among dozens of migrants camped near the U.S. border crossing in Tijuana, Mexico, after U.S. officials admitted eight women and children, fueling the determination of others to remain until they were admitted.
However, the U.S. Department of Justice late on Monday announced what it described as the first prosecutions against members of the caravan, filing criminal charges against 11 migrants accused of entering the country illegally about four miles (6 km) west of the San Ysidro, California, border crossing.
"The United States will not stand by as our immigration laws are ignored and our nation's safety is jeopardized," U.S. Attorney General Jeff Sessions said in a statement announcing the charges.
The statement did not provide a figure on any other caravan members who might have also been detained.
On the asylum applicants, the Trump administration's hands are tied by international rules obliging the United States to accept some applications. Most in the caravan said they were fleeing death threats, extortion and violence from powerful street gangs.
Dozens of members of the caravan slept in the open for a second cold desert night in the surroundings of the busy San Ysidro port of entry, after pumping fists and cheering the news late on Monday that Customs and Border Patrol (CBP) had opened the gate to eight women and children.
Those left behind said they would continue their sit-in until they were at least allowed to recount their stories to border officials and try to convince them that it was unsafe to go home. The caravan swelled to 1,500 people at one point but has since dwindled to a few hundred.
"We crossed the whole of Mexico," said Angel Caceres, who said he fled Honduras with his 5-year-old son after his brother and nephew were murdered and his mother beaten and raped. They would stay, he said, "until the last person is in, as long as it takes."
It was not clear when more of the group would be allowed to make their asylum bids. A CBP spokeswoman said the port of entry was congested with other undocumented immigrants, and that the caravan members might have to wait in Mexico temporarily.
The majority of asylum claims by Central Americans are ultimately unsuccessful, resulting in detention and deportation. The Trump administration says many claims are fake, aided by legal loopholes.
Vice President Mike Pence has accused the caravan's organizers of persuading people to leave their homes to advance an "open borders" agenda.
Only two of the dozens of people in the caravan who spoke to Reuters over the past month said they were aware of the caravan's existence before they left home. They said it had not played a role in their decision to flee what they described as appalling conditions.
Asylum seekers must demonstrate a well-founded fear of persecution at home, most often from a state entity. Central Americans fare badly in such claims because the state is rarely seen as directly responsible for the life-threatening situations they leave behind.
U.S. border authorities said in a statement over the weekend that some people associated with the caravan were caught trying to slip through the border fence.
Trump on Monday railed against a system that may see some of the caravan members freed in the United States until their cases are resolved, because a shortage of beds at detention centers and rules that limit how long women with children can be held.
"Catch and release is ridiculous. If they touch our property, if they touch our country, essentially you catch them and you release them into our country. That's not acceptable to anybody, so we need a change in the law," he said.