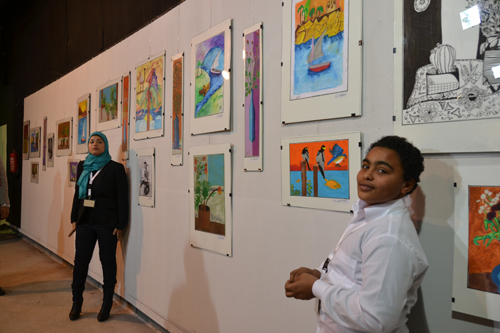 Nahla al-Nimr, Sabah Abdallah and other orphans are rehearsing for a launch event (which took place on 2 February) bringing together 30 orphaned young people from a youth development program called FORSA to speak about their experiences in the program — and showcase some of their hopes and dreams.
The girls bicker with one another.
"Our supervisor controlled the fates of everyone under the roof of the orphanage. I want to be the director of the orphanage I grew up in," says Nimr confidently.
"I am not trying to underestimate your dream but the director never changes anything," responds Abdallah
A debate then ensues over the role of the administration in orphanages before it is cut short by the moderator, who reminds everyone to stick to the program on the day of the launch.
Wataneya Society for the Development of Orphanages, the NGO that launched FORSA, developed the program to help orphaned youth develop skills and talents, as well as discover their dreams. But its real focus was a new one.
The nonprofit organization viewed the program as a step toward fulfilling its larger mission: to apply quality standards governing the level and system of care provided in orphanages and institutional homes across Egypt.
The country's orphanage system is plagued by a high turnover and incompetent caregivers, poor administration and mismanagement, a lack of attention to psychological care and child protection, and an absence of comprehensive planning for the orphans' lives and futures. Some 1.7 million orphans suffer because of these problems.
Before the launch at El Sawy Culture Wheel, Egypt Independent sat down with some of the young people, who told us their stories — and their dreams of wanting to change themselves and the institutions.
Twenty-nine-year-old Nimr's dream of being in charge of the orphanage she grew up in may have drawn some criticism from her colleagues. Yet she insists on changing the institution, which she calls "inefficient and timeworn."
At age 8, Nimr says, she was provoked when a supervisor continuously forced older youth in the home to take the same career path — nursing.
"What annoyed me," Nimr says, "was that the supervisor put a ceiling on what we could achieve. She not only judged us but erased our characters, so that we were all cast in the same mold."
Nimr then made a promise to herself that she would break that mold and enter high school, or thanaweya amma, rather than nursing school.
"Thanaweya amma was the orphanage's biggest nightmare because it could open up our minds," Nimr says. "They didn't want that — that is, for us to think and start expressing our rights."
Though Abdallah thinks Nimr is pursuing a hopeless dream, she is not unusual in decrying attitudes commonly held toward orphans, and the restrictions placed on their aspirations.
Abdallah is a 20-year-old directing and acting student who hopes to become a famous writer. "I don't see the end as getting married at 20, as all female orphans are supposed to want," she says. "All I want is for my home to accept that I am different, want different things, and that there is nothing wrong with that."
"The assumption that is commonly hammered down is: If you are an orphan, then I won't invest in you. … What we are trying to do is show these types of caregivers that when these orphans get an opportunity, they can change," says Amira Hossam, FORSA's project manager.
Hossam adds that changing the discourse touches upon many of the standards her organization is seeking to set as preconditions for operating and licensing orphanages. The list of six standards places guidelines for the minimum requirements orphanages and homes must adopt in matters of privacy, protection from harassment, planning for care, the number and quality of staff and caregivers, and management and administration.
Azza Abdel Hamid, founder and chairperson of the NGO, says the standards are fleshed out from problems that face all homes and orphans, which are "apparent to the naked eye."
FORSA provides space for orphans to address and open a dialogue about these problems, which are often clandestine, apart from fulfilling one of the standards on its own — offering youth the backbone they need to leave the orphanage and smoothly transition into an independent and untroubled life, integrated in society.
The program consists of three phases: self-discovery, self-development, and planning for community involvement and social integration, which are given in the form of workshops. The self-discovery phase hones the students' interests and talents by placing them into creative writing, movie making, painting, and arts and crafts workshops. Summer internships are also offered.
Hossam says her team initially had to think of an unconventional way to promote the program.
"We were trying to change the mindset of homes from the beginning. In the selection criteria, we went to the homes — some didn't welcome us, to begin with — and told them that the program was not based on nomination [of students by the homes]. Instead, we gave a presentation to the orphans, then gave them the choice to fill in the application or not," Hossam explains.
Hossam ended up with fewer than a dozen orphanages participating in the program.
Abdallah says FORSA was the first choice she's ever made in her life, and that she wrote in her application that she wanted to become a "tour guide." She then discovered that she preferred writing more.
After developing the orphans' skills, the program focuses on integrating them into the real world.
"This is what the teens are talking about now, namely: After 18 years, what will they do as they go out in the real world?" Hossam says.
She again blames caregivers: "They imagine that planning starts at 18, when most of the orphans have to leave the home. Rather, we ask the question: What did you do in the past 18, 20 or 21 years to prepare them to leave?"
Omar Hassan, 21, is deeply concerned about his fate when the moment to leave his home arrives, which will take place in a year. He is then expected to find a job and place to live — and start a new life from scratch.
Hassan has witnessed many of the older orphanage residents undergo this transition and fail, often returning to the orphanage or ending up using drugs.
"I am scared. I haven't planned for tomorrow. … By law, the state should support me for one year after I leave. This year is nonexistent," Hassan says.
Hossam adds that planning should not only be financial but should also involve integration.
"The home is often a closed space, a locked community. When an orphan reaches a certain age, he or she is shocked to realize that there is a society he must interact with," says Hossam.
Proper planning for orphanages is partly achieved by setting up expectations for the orphan, Abdel Hamid says. Not only should orphans be told what to expect regarding their futures, but also with their relationships with others — especially volunteers and kofalaas.
Volunteers often frequent orphanages with the purpose of performing charity. Abdel Hamid says they are not aware that they might be causing the orphan more harm than good.
She evokes the image of a fleet of volunteers making visits to orphanages every day, each demanding the orphan sees them as a parent.
"Volunteers need to understand that an orphan is a human being, rather than just an orphan. By that, they need to inform him or her of their coming and leaving," says Abdel Hamid. "I won't let him or her call me 'mother' and get attached to me and then disappear from their lives, which is often the case."
Volunteering needs to be organized, she says.
On that note, Abdallah says she wants to make her sisters at home understand that there are different kinds of love, trying to dispel the "sick attachments" orphans may make to volunteers.
But she says the FORSA program helped her experience love toward others, which she says she never had felt for anyone. An introvert with a rebellious character, Abdallah says she was able to open up and experience her emotions through one of the program's writing courses.
"At first, I only wrote about myself. I was angry and never proud to be an orphan. … After a while, I was better able to be reconciled with myself," she says to an audience of dozens Saturday.
During one part of the session in which participants expressed the messages they wanted to impart about their experiences, Hassan directed his message to the Social Solidarity Ministry, asking it to adopt the cases of orphaned youth about to leave their homes. Others asked the media to stop representing them as victims and to promote positive perceptions about orphans.
Nimr, meanwhile, hopes to convey a message of loving oneself.
In 10 years, FORSA is hoping to have prepared a generation of capable orphaned youths who can lead and promote their own cause. Wataneya hopes to fulfill a bigger dream of getting its standards accredited by the ministry, which is currently reviewing its hefty 70-page handbook.
If the standards are approved, a round table will be held to finalize the standards in preparation for them to be adopted nationally.
This piece was originally published in Egypt Independent's weekly print edition.