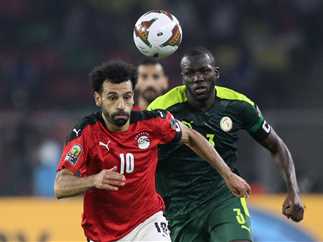 Egyptians are preoccupied with channels scheduled to broadcast the match between Egypt and Senegal in the 2022 World Cup qualifiers.
It will definitely be a very important match for Mohamed Salah and his companions against Senegal at the Cairo International Stadium in the first leg of the 2022 World Cup qualifiers.
Egypt topped Group F in a group that included Libya, Angola and Gabon, while Senegal topped Group H after beating Togo, Namibia and Congo.
The match between Egypt and Senegal is set on Friday, March 25, at Cairo International Stadium at 9:30 pm Cairo time and 10:30 pm Mecca time.
Egypt's OnTime Sports channels obtained live broadcast rights for the match between the two nations. 
OnTime Sports 1 and OnTime Sports 2 channels will broadcast the match.
What is the frequency of the OnTime Sports channels broadcasting the match on Nilesat?
Frequency: 11861
Polarization: horizontal
Coding: 27500
Correction: 6/5
The official account of OnTime Sports channels on Facebook wrote: "Wait for us on On Sports channels live to broadcast the matches between Egypt and Senegal qualifying for the World Cup."