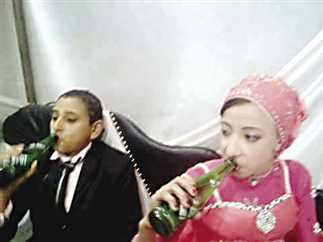 A 12-year-old girl became engaged on Wednesday to an 11-year-old boy, as photos circulated on Facebook of their engagement ceremony, which took place in Qabrit village, in the Nile Delta city of Kafr al-Sheikh.
"I'm happy with the engagement, because the groom is my cousin, and he will take care of me," said the young bride-to-be.
She revealed that she did not completed her primary education, "I was in school and I left it after I finished my second primary grade."
Instead, the girl had focused on working within the domestic household, "I'm good at cooking and doing the housework."
The girl's father, Hemeida al-Sherif, meanwhile, said that he was a former cleaner at the village's local council hall, for over 10 years, despite never having the security of a permanent contract. He added that he is currently unemployed.
Sherif hoped and asked to return to full-time work, with a permanent contract, in order to be able to support his family.
Alongside his wife, his family is made up largely of dependent children, including the 12-year-old bride-to-be, Habiba, 9-year-old Rahma, Mahmoud, who is 8-years-old and requires an open heart operation, and the youngest of the family, 4-year-old Fredos.
Sherif added that his wife's sister, who suffered from a stroke, asked for his daughter to take her son Mohamed Gaber al-Fakhrany's hand in marriage, because she wanted assurance of her son's wellbeing if she were to die.
Sherif explained that they agreed for the wedding to take place "within eight years, when we complete the marital nest," citing "difficult economic conditions" as an explanation for the delay in marriage.
The mother of the girl said she agreed with the groom-to-be and his mother that their children will not visit one another or exchange gifts until they are financially prepared.
Meanwhile, the Undersecretary of the Ministry of Social Solidarity in Kafr al-Sheikh al-Sayyed Mesallam, decided to form a committee to examine the homes of the two families, in order to provide support for them.