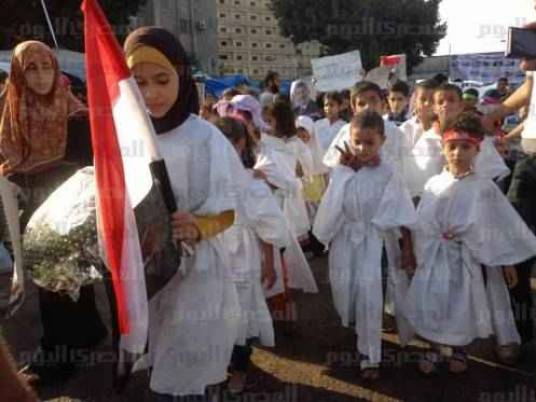 The National Council for Childhood and Motherhood filed a report on Tuesday to Public Prosecutor Hesham Barakat calling on him to take the necessary procedures to remove children from the Rabea al-Adaweya sit-in.
The organization added that such a practice violates children's rights in Egypt.
Children marched besides coffins at the sit-in on Monday, demanding the return of deposed President Mohamed Morsy. Videos on Youtube showed children before Biblioteca Alexandrina chanting slogans demanding an end to the coup and the overthrow of Defense Minister abdel Fattah al-Sisi.
In a statement on Tuesday, the council said that this practice doubles children's exposure to hygienic, security, and moral harm. The group also denounced ongoing abuse of children by the Muslim Brotherhood.
UNICEF had also expressed its concern regarding photos of children at pro-Morsy protests at Rabea al-Adaweya Square.
The council had also warned before 30 June against the abuse of children and involving them in protests and sit-ins.
The council called on Interim President Adli Mansour, Prime Minister Hazem al-Beblawy, the prosecution, and the ministers of justice and interior affairs to take strict measures in order to halt the abuse of children.
It also called on citizens to notify the authorities if they see children being exposed to danger through its hotlines: 16000 and 16021.
The council expressed its outrage at the violation of children's rights and their involvement in armed conflicts, all as a tool for 'saboteurs' to achieve personal gains for themselves and those who seek the continuity of a regime a majority of people have rejected.