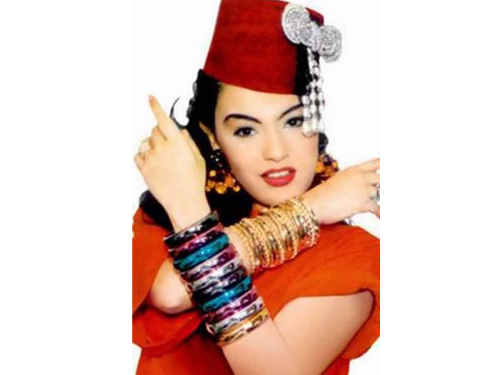 The 1981 jingle for "Fawazeer Ramadan," a classic television riddle show, goes: "The matchmaker of the old times always has much to offer … she has pictures of girls and boys, she turns strangers into lovers."
"The Matchmaker" was a famous riddle show, its main character played by beloved actress Nelly, that would unite families around the television screen after iftar in watching, rejoicing and resolving the riddle.
The ritual of entertaining fasting Egyptians with short and mind-twisting riddles — "fawazeer" in Arabic — started in the early 1960s on the radio. They were presented by renowned radio host Amal Fahmy and followed by the famous series "A Thousand Nights Tales," a storytelling session voiced by acclaimed actress Zouzou Nabil.
In the early 1980s, tradition caught up with television, almost solely monopolized by talented director Fahmy Abdel Hamid, who created al-Khatba — the matchmaker — and incorporated cartoon characters in most skits, which was unusual at the time. The matchmaker became one of the most famous riddle shows. In 30 episodes that aired throughout Ramadan, Nelly brought 30 potential husbands to young women wishing to get married. Viewers had to guess the profession of the would-be husband.
In 1982, Abdel Hamid invented the character Fattouta, played by actor Samir Ghaneim, who played the role for two consecutive years. Fattouta was a miniature Ghaneim with an afro, wearing an oversized green suit and yellow shoes.
In one of the Fattouta seasons, Ghaneim, a director, would have to fill in for a missing actor in a given film he is directing. At the end of each episode, the audience is supposed to guess the name of the movie and the actor that Fattouta replaced. The episodes were both entertaining and funny.
Later, Abdel Hamid introduced a new talent to the world of Ramadan entertainment, Sherihan. The young star went on to charm her avid audience for three years.
While shooting Nelly's fawazeer "Sandou' al-Alam," or "Pandora's Box," Abdel Hamid died, and his son Gamal continued the mission for a few years.
At the end of the holy month, audience members were expected to collect all 30 correct answers on a form and send it to the Maspero TV building, usually a few days before the feast.
Many renowned actors had given Ramadan entertainment a go, such as Yehia al-Fakharany, Sabreen and Sherine Reda, and famous belly dancers Dina and Lucy. But Nelly, Sherihan and Ghaneim remain the standouts of Ramadan TV riddles. Lebanese singer Miryam Fares had a try at "Fawazeer Ramadan" last year, but over the years Egyptians had developed high standards that the Lebanese star couldn't meet.
Such productions were extremely costly and demanded a multi-talented star who could act, sing and dance. Money and talent are two elements that Egyptian TV has been short on for years now.
For the last few years, the bulk of funds are directed to soap operas that guarantee long and profitable advertisements, and sell well to Gulf and Saudi cable channels.
But "Fawazeer Ramadan" represents a precious memory for all 1980s and 1990s kids, and their parents. It was simply a moment of happiness after a long day of fasting, and a window to potential talents in show business. A few years ago, state TV stopped producing these shows, while some private satellite channels tried to invest in them with little success.
This piece was originally published in Egypt Independent's weekly print edition.