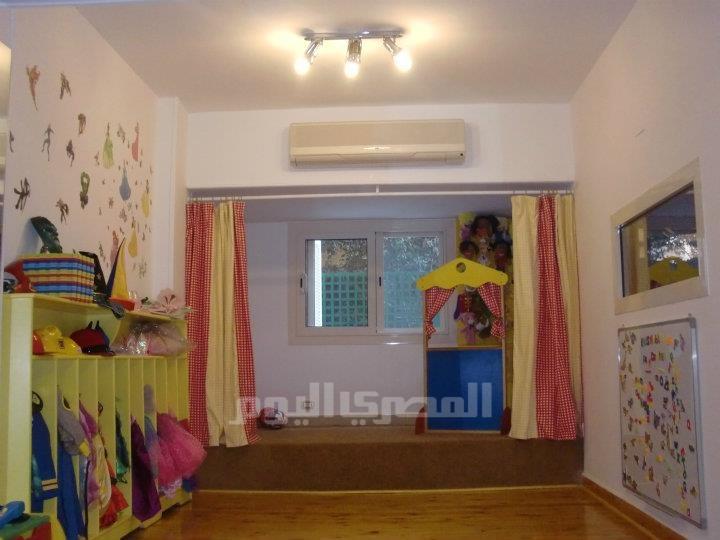 It used to be said that in Egypt, to make money, one should invest in real estate or food. But nowadays it seems the new moneymaker might be in offering services to the city's youngest patrons. In several parts of Cairo, high-end businesses catering to kids are cropping up, each with a slightly different twist. There are children's workshops at Diwan in Heliopolis, Cheeky Chimps, a play area with toys in Mohandiseen and Zamalek, and Kids Makan in Maadi. And every month seems to bring a new venue for pint-sized patrons.
Maadi, already home to many businesses that cater to young families, has three spots that have appeared recently.
Parents looking for a change of scene and new activities for their young offspring might head to Maadi to check out the following play spots reviewed by Egypt Independent.
Kids Makan
This indoor play area for children opened last year and is located in New Maadi. The flat has a small cafe for parents with sandwiches and coffee, and an eating area for children where salad, molokheya, spaghetti bolognese, and a number of other kid-friendly foods are served. There is also a gated spot for kids under two. The rest of the space has toys, costumes, coloring sheets and a room for classes where Kids Makan offers drama classes, arts and crafts, and a disco light ball and music for kids to show off their dance moves.
The flat also has a small patio with a trampoline and slides, and big plastic bricks for building walls. The indoor toys are well chosen — many are educational and children can play music, load vegetables into a shopping cart, work through musical puzzles or read books.
Kids Makan has recently allowed parents to leave their children there; the option is available for children over three who do not wear diapers.
Birthday parties at Kids Makan are also offered, and children can get a wide array of healthy and tasty "home-cooked" foods, while parents can opt for sandwiches and salads. The spirit is communal and Kids Makan is very welcoming. Parents who bring their children to play at Kids Makan should plan to pay by the hour; it's approximately LE40–50 per hour with lower rates for siblings and higher rates for children who will be left unaccompanied. Memberships are also available, though they are based on number of visits rather than time spent.
Location: 5 Road 259, New Maadi; Tel: 02-519-3642 or 0127-699-4082
Alimo
Alimo is focused more on encouraging children to spend time outdoors, with two extensive play areas – one for children under 5 and the other for those over 5. The garden has a small pond with a plexi-glass wall built around it to keep the kids safe. Alimo has an extensive menu – great food for grown ups with tweaked versions for children.
Classes available at Alimo include taekwondo, ballet, makeup for teenagers and coming soon — Zumba dance-exercise classes for grownups. This weekend the space is hosting a bazaar with face painting and activities for children. Alimo also hosts plays and performances like "El Leila El Kebira" a traditional puppet show. At Alimo parents can pay LE30 for their children to use the facilities and they can play for as long as they want.
Alimo Community Club – 3 Damascus (Demeshq) St., off Suares Square – 01018966777
Sugar Spell
The latest kid-spot in Maadi is on Road 6. Sugar Spell, as it's named, was founded with a different idea in mind. Inside, the world revolves not around encouraging development or education, but candy. The candy story takes up one entire floor and offers an international array of candy and sweets – candy by scoop and weight in one corner, M&M's by color in another – and a display of differently colored and flavored tart powders that children can "drink" out of a plastic tube.
For parents who insist on a minimum of three servings of fruits and vegetables a day, Sugar Spell could sound like a nightmare. There are televisions at every table for cartoon watching, candy in abundance and a tiny playground that offers no encouragement for outside play.
"I was horrified by the amount of candy and the irresponsibility of the staff," says Rehab Fahim, 32, a Maadi resident, "I left my daughter to play on the playground with assurances that she was being watched but she went inside and got lost and it turned into a disaster."
Although Sugar Spell offers some new options like cookies kids can decorate and colored dough that children can mold, cut, bake and eat, the environment at may be a little too focused on pleasing little bellies. Some parents might find the make up and a photo booth for modeling shots a little too precocious for young girls. At Sugar Spell patrons pay per activity and a list of activities with prices is up on the wall.
Sugar Spell could be a nice rare treat for children. But a better alternative might be to purchase their color cookies and bakeable dough and have activity time at home in a less candy-centric environment. Sugar Spell also makes special-order chocolates, cookies and cakes printed with pictures or messages, and hosts birthday parties.
Sugar Spell – 21 Road 6 Maadi – 0100-055-5570