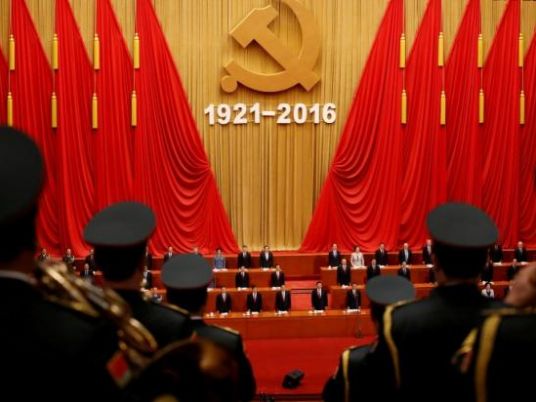 Chinese President Xi Jinping warned on Friday that the biggest threat to the ruling Communist Party is corruption, as he used the party's 95th birthday to also warn against any threats to China's security and Taiwan independence.
Since Xi took power more than three years ago, he has mounted a sweeping campaign against deep-rooted graft, warning like others before him it could threaten the party's rule, and taken a muscular approach to protecting China's sovereignty, including its contested claims in the South China Sea.
In a wide-ranging speech in Beijing's Great Hall of the People, Xi said that history had chosen the Communist Party to lead China, but that if they did not manage the party properly and listen to the people, then history would discard them.
"As the ruling party, the biggest danger we face is corruption," Xi told party members, in comments carried live on state television.
"We must have a staunch will, not let up on our zero tolerance attitude, investigate all cases and punish those who are corrupt, to give corrupt elements no place to hide in the party," he added.
Dozens of senior officials have been jailed in Xi's anti-graft battle, including powerful former domestic security chief Zhou Yongkang.
But China faces external challenges too.
Beijing has been infuriated by a case lodged by the Philippines at an international arbitration court over the South China Sea, vowing neither to participate in the case nor accept the ruling, which is due July 12.
Without making direct reference to the South China Sea, Xi said that while China was not a trouble maker, no foreign country should think China would trade away its core interests.
"Do not expect that we will swallow the bitter fruit of damage to our sovereignty, security and development interests," he said to an audience including military officers, model workers and ethnic minorities.
Vietnam, Malaysia, Brunei and Taiwan also have South China Sea claims.
A further headache for Xi this year has been January's election in self-ruled and democratic Taiwan of a president from the pro-independence Democratic Progressive Party, Tsai Ing-wen.
"We will resolutely oppose Taiwan independence splitist forces," Xi said, again without a direct mention of Tsai or her party.
"The 1.3 billion of China and the entire Chinese race will never agree to any person, at any time, using any method to carry out activities to split the country."
China views Taiwan as a wayward province and has never renounced the use of force to bring its under Beijing's control.
Tsai has vowed to maintain peace with China.