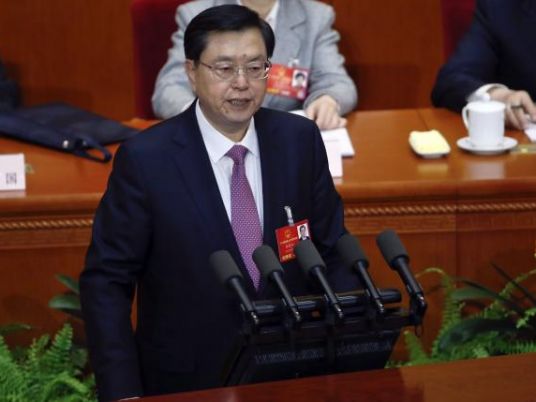 China is taking a "distinctly Chinese approach" to national security with a raft of new laws, including one on counterterrorism, the third-ranked leader said on Wednesday, offering a strong rebuttal to Western criticism.
The US, Canadian, German and Japanese ambassadors signed a letter dated January 27, voicing unease about the counterterrorism law, the draft cyber security law and a draft law on management of foreign non-governmental organizations.
The ambassador of the European Union Delegation to China sent a letter expressing similar concerns.
The cyber security and counterterrorism laws codify sweeping powers for the government to combat perceived threats, from widespread censorship to heightened control over certain technologies.
Critics of the counterterrorism legislation, for one, say that it could be interpreted in such a way that even non-violent dissidents could fall within its definition of terrorism.
Zhang Dejiang, who heads China's largely rubber-stamp parliament, told its annual session that China had laid "a solid legal foundation for accelerating the establishment of a national security system and taking a distinctly Chinese approach to national security".
"In the face of a grave and complex situation in the fight against terrorism both at home and abroad, it is of crucial importance that China intensifies its anti-terrorism activities," Zhang said.
"The improvements to our counterterrorism laws will be of great importance for preventing and punishing terrorist activities according to law, for safeguarding national and public security and for protecting lives and property."
He made no direct mention of the criticism.
This year China will "work on" the foreign NGO law and cyber-security law, Zhang added, without giving a timeframe for when they might be passed.
China has blamed attacks in its violence-prone far western region of Xinjiang on Islamist militants, though rights groups and exiles say anger at Chinese controls on the religion and culture of the Uighurs is more to blame for the unrest. China denies any repression in Xinjiang.
China also says it faces a threat from Xinjiang radicals traveling to the Middle East to join groups like Islamic State.