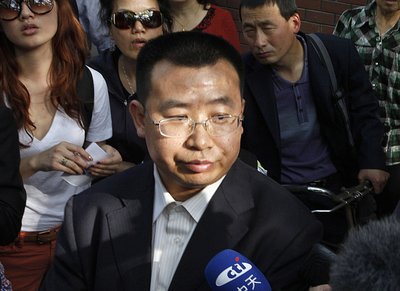 A prominent Chinese human rights lawyer was sentenced Tuesday to two years in prison on the vague charge of inciting subversion of state power, the latest verdict passed down in Beijing's sweeping crackdown on activism that has drawn widespread international criticism.
The Intermediate People's Court in the central city of Changsha handed down the verdict against activist Jiang Tianyong at a brief hearing, according to an announcement on the court's official account on the Sina Weibo microblogging platform.
The court posted footage of Jiang in a black down jacket sitting in the courtroom listening expressionless as a judge read out the verdict.
The court said Jiang would not appeal the sentence, though it was unclear from court footage if Jiang had said so. Jiang's court-appointed lawyer did not answer repeated phone calls.
"This entire legal process is arranged by the government. So I don't accept Jiang pleading guilty and the guilty verdict," said Jiang's wife, Jin Bianling, by phone from Los Angeles, where she now lives.
Prosecutors accused Jiang of using social media platforms to denigrate the government and judicial authorities and said he incited others to subvert state power, including fabricating claims that another lawyer had allegedly been tortured in custody.
Rights groups said the trial was a sham and that Jiang was caught as part of a campaign aimed at snuffing out any opposition to the ruling Communist Party.
Courts in China are controlled by the Communist Party and convictions are virtually assured. Human rights groups and victims say the extraction of coerced confessions, sometimes through the use of physical and psychological torture, is common, despite being banned by Chinese law.
His wife, Jin, had heard that during his yearlong detention he had suffered torture and other abuse that forced him to make a clearly scripted confession.
Jin said Jiang suffers from high blood pressure and she was concerned his health would deteriorate in prison. Jin expects that because he had been detained a year ago he would serve another year before his release, but that she would continue fighting for his freedom.
"I'm confident that we will reunite one day. I won't give up," she said.
Jiang was a lawyer who defended politically sensitive clients such as the blind legal activist Chen Guangcheng and followers of the outlawed Falun Gong spiritual group, before authorities refused to renew his license to practice law in 2009. Just prior to his arrest, he worked to publicize the plight of lawyers arrested in a sweeping crackdown on legal activists that began in July 2015.
Jiang met with the lawyer Xie Yang's wife months before she released her husband's account of being beaten, deprived of sleep and otherwise tortured while in detention — drawing further condemnation of Beijing by Western governments. Xie's wife and two children later fled the country.
Xie was released in May after pleading guilty to charges of incitement to subversion and disturbing legal proceedings but activists say he remains closely monitored.
Jiang had been taken away by state security agents in November last year and in March purportedly gave an interview to a state newspaper and was shown on state TV saying that he had made up the story of Xie's torture.
The airing of Jiang's account on state media was met with criticism by rights groups. The German Ambassador to China, Michael Clauss, said in a statement issued by the embassy that it showed that Jiang had been "obviously prejudged through a 'confession' aired by Chinese TV before his trial had even begun."
Rights group Amnesty International called Jiang's sentence baseless. "His so-called confession and apology, most likely extracted under duress, were nothing more than an act of political theatre directed by the authorities," said William Nee, a China researcher for the group.