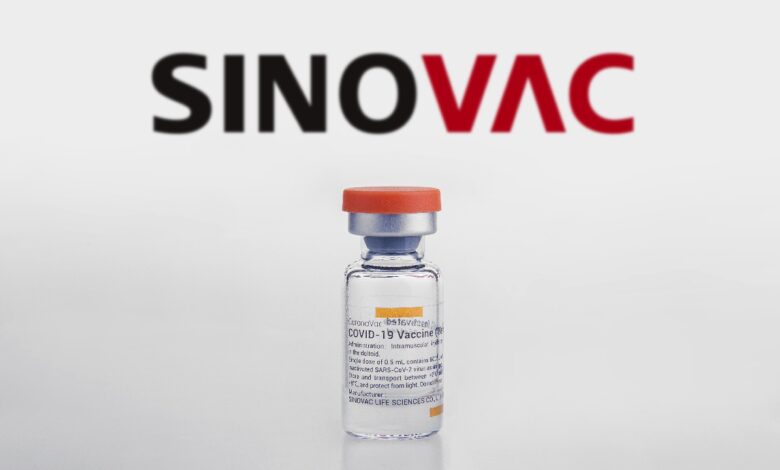 The Chinese ambassador to Cairo Liao Liqiang announced Monday that procedures to send two million doses of the Sinovac vaccine from China to Egypt will be finalized soon.
During his meeting with the Egyptian Minister of Health and Population Hala Zayed, the Chinese ambassador stressed that his country places Egypt at the top of its priorities in providing its coronavirus vaccine.
Liao pointed out that Egypt was amongst the first countries to show full solidarity with the Chinese people since the  pandemic began in China.
Zayed said that the fruitful cooperation between Egypt and China in the health sector during the response to coronavirus pandemic is a role-model for international cooperation in handling global crises.
A statement by the Ministry of Health and Population said that the meeting between Liao and Zayed discussed ways to enhance cooperation between the two countries within the health sector.
The meeting tackled furthering cooperation between in addressing the coronavirus pandemic, as well as the provision of vaccines through cooperation between the Ministry of Health and Population and leading Chinese companies in this field.
Zayed stressed the importance of expanding horizons of cooperation and partnership with China in vaccine production and the transfer of manufacturing technology.
She appreciated the historical steps the two countries have witnessed in the health sector, thanks to strong relations between their political leaderships.
And she thanked the Chinese government for its initiative in providing support to Egypt since the beginning of coronavirus pandemic, a refection of the deep relations between the two friendly countries.
Zayed stressed that this cooperation is the first engine to expand cooperation with various countries of the world in addressing the virus, and appreciated the tireless efforts made by the Chinese ambassador and his continuous follow-up in cooperation with Egypt in health issues, which has positively maximized opportunities for cooperation in addressing the pandemic.
Also on Monday, Zayed said that the US has agreed to send over eight million doses of the Pfizer and Moderna coronavirus vaccines as a gift.
During a press conference, she added that this shipment of vaccines is a valuable gift not only in terms of financial value but as a positive message that the US government to the Egyptian people and government at this difficult time worldwide.
Egypt's Ministry of Health and Population on Sunday reported 768 new coronavirus cases, 37 deaths, and 695 recoveries.
A total of 306,798 cases have been disclosed in Egypt, alongside 17,436 deaths and 258,947 recoveries.
The country's fourth wave of the virus is in full force, with daily case figures ten times higher than what was recorded at the end of July.
Moreover, the Health Ministry has stated that official figures likely only represent 10 percent of actual cases.
A total of 16,223,309 vaccine doses have been administrated in Egypt as of September 27, according to World Health Organization data.