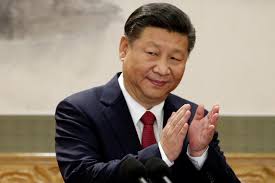 China's focus on the quality of its growth rather than on the pace of its expansion will boost productivity and reduce financial vulnerability, developments that would be positive for the country's ratings, Moody's Investors Service said.
China said this week that it will not set a goal of doubling its gross domestic product starting in 2021 so it can focus more on higher-quality, long-term growth, in a break from past practice.
The world's second-largest economy is already on course to reach its target of doubling GDP by 2020 from 2010. But the pursuit of rapid growth has led to soaring corporate and local government debt, regional economic disparities and a host of environmental problems.
"China (A1 stable) will likely reach its target of doubling per capita income by 2020 from the level in 2010," said Lillian Li, a senior analyst at Moody's.
"The government, therefore, has more policy space to achieve its other goals, such as the sustainability of growth and the reduction of economic inequalities across Chinese society."
In a report released on Friday, Moody's said further consolidation of power under President Xi Jinping, following the conclusion of the 19th Communist Party congress this week, could advance economic reform and rebalancing.
One obstacle to reform has been the misalignment of incentives between the central leadership and other officials, Moody's said.
But the ratings agency, which cut China's sovereign rating in May for the first time in nearly 30 years, said it remains unclear whether the increased centralization of authority will led to an acceleration of reform or a continuation of the careful balancing of policy objectives in recent years.
That said, a stronger policy focus on financial regulation should continue to rein in shadow banking, help mitigate asset risks for banks and address some key imbalances in the financial system, Moody's said.
Chinese regulators have also committed to maintaining financial stability through greater coordination of monetary policy, including measures for liquidity management, with the macro prudential assessment framework.
All these factors will be credit-positive for China's banking sector, Moody's said.
Other policy announcements suggest that reforms will continue to proceed cautiously and without challenging the dominant role of state-owned enterprises in strategic industrial sectors, Moody's said.