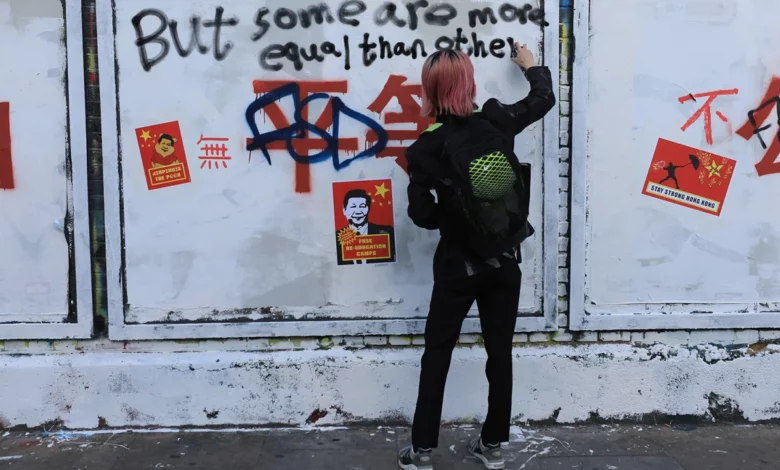 London
CNN
 —  A graffiti wall in London's bustling street art hub of Brick Lane has become an unlikely canvas for protest messages against China's authoritarian rule, after it was whitewashed and painted over with propaganda slogans promoting Chinese Communist Party ideology.
The bright red slogans, spray-painted by a group of young Chinese artists over the weekend, consisted of 24 large Chinese characters outlining the country's "core socialist values."
The 12 values include "prosperity," "harmony" and "patriotism," as well as concepts like "democracy," "freedom," "equality," "justice" and "rule of law" – liberal philosophies familiar in the West, but their meaning and application differ greatly as defined by the Chinese Communist Party.
Endorsed by Chinese leader Xi Jinping, the slogans are a common sight in China, displayed on posters and billboards across the country and frequently featured on state television.
But their sudden appearance in east London – and the way the slogans wiped out existing art, including a tribute to a street artist who had died – shocked and angered the local artists as well as parts of the Chinese expatriate community living in Britain who are critical of Xi's rule.
The slogans also attracted a great deal of attention and controversy on social media, where the creators first documented and shared their work.
On Chinese social media, some supporters argued the young Chinese artists were exercising freedom of expression and applauded them for "exporting" Chinese culture and values. Critics accused them of destroying local street art and promoting Communist Party propaganda.
In Brick Lane, a cultural thoroughfare in London's East End famed for its curry houses and a vibrant art scene, the backlash was swift.
By Sunday, the slogans had been overlaid with a flurry of new graffiti that was deeply critical of both Xi and the Chinese Communist Party.
Above the word "equality," someone had written "But some are more equal than others," using a famous line from George Orwell's novel "Animal Farm." Others added "no" in front of the characters for "democracy" and "freedom."
Other messages decried the Chinese government's recent crackdown in Hong Kong, Xinjiang and Tibet, as well as the 1989 Tiananmen square massacre, an event that is highly censored inside China.
Whitewashed, and spray painted, again
Then, by Monday early morning, all the graffiti had vanished, painted over in white.
Tower Hamlets Council, the local authority which runs that area of London, said it had removed it in line with its "unwanted and illegal graffiti" policy. The council did not explain why it chose to remove only the China-related graffiti while leaving intact other parts of the same wall and the wall directly opposite.
When CNN visited the site later on Monday, what remained on the white wall were a few post-it notes, describing what happened in the past few days.
Leaning against the wall was a bouquet of flowers with a note signed by "an anonymous Chinese." It read: "For the erased colors, for the silenced voices, we saw, we hear, we remember."
But the wall did not stay silent for long.
Around noon, a young man from Hong Kong arrived with a bag of spray-paint and daubed the first new graffiti on the white wall. He opted for a quote from Milan Kundera in Chinese: "The struggle of men against power is the struggle of memory against forgetting."
The 24-year-old, who spoke on condition of anonymity, said he arrived in the UK to seek asylum after participating in Hong Kong's pro-democracy protests in 2019.
"What is happening right now in China is very said … it's a disaster, but the government is trying to wipe out all the memories," he said.
He decried the whitewashing of the subsequent protest art.
"They just tried to make people forget what happened here in the past week. I wanted (the graffiti) to stay, to be there, because it's their chance to express themselves," he said.
By late Monday afternoon, the wall was full of new signs, slogans and posters about China once again, with scores of tourists and local residents arriving to take photos.
Lyndon Li Shixiang, an activist from China who said he is exiled in the UK where he is seeking an asylum, said he spent hours over the past two days in Brick Lane observing events and chatting to people. It was encouraging to see Chinese people in Britain joining together and expressing their political opinions, he said.
"I think it's a great day … everybody was coming here voluntarily. There is no organization. There's no one leader or anything, but everybody's expressing their dissenting views against the Chinese Communist Party," he said. "It unites everybody."
Intentions and repercussions
Despite the controversy and backlash the Chinese propaganda slogan has set off, the initial intent of those who stenciled the slogans is less clear. On social media, users debated whether the slogans were an expression of support for the regime or an act of cleverly subversive political satire.
In a printed statement pasted next to the slogan on the wall, the creators described themselves as "a group of free-spirited Chinese artists."
"In an adamant display of freedom of expression, the characters stand as a silent reminder of the oppression of thought, press freedom and to free speech that is still rampant in China in 2023," the statement said.
However one of the artists, who goes by the name Yi Que, suggested an alternative motive.
"Let's see what happens when we use the method of socialist construction to decolonize the false freedom of the West," he wrote on Instagram.
Many replies underneath Yi's post were critical of the project.
"Obstructing freedom of speech is not a part of freedom of speech. The jargons you used cannot justify your brutal destruction of other people's art," said a top reply on the post.
"It is such a shame that you [are] repeating and promoting a totalitarian government's political propaganda without having the guts to mention the political implications and satire behind the 'socialist core value,'" it added.
Badiucao, a prominent Chinese-Australian dissident artist, said regardless of the creators' intention, they were wrong in erasing other artists' work. While graffiti artists often paint over older pieces, they are expected to follow established etiquette and unwritten rules withing the street art community, he noted.
"The Chinese creators had little respect for other people's artistic expression and freedom of speech," he said. "The way they presented their work is by destruction of others."
On Monday evening, Yi Que posted another statement on Instagram, insisting that he holds "no political stance."
"I love my country, but we still have the right to introspect objectively," he said.
"The situation escalated beyond my imagination, to the point where I must protect myself and my family," he said, citing severe cyber-bullying and death threats.
He did not respond to CNN's interview request.
By Tuesday morning, the wall had been whitewashed again.
This story was updated with new information about Lyndon Li Shixiang's status.