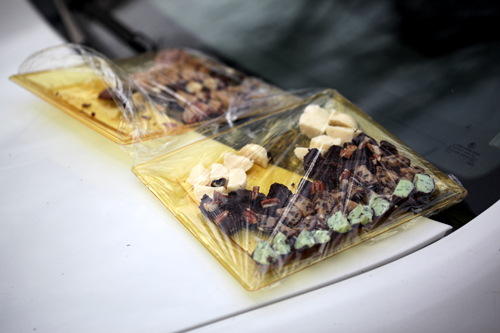 Purchasing chocolate is not an easy task. While it may take you seconds to pick a candy bar at the kiosk, picking a good chocolate from a chocolatier, especially in a country that is not well-known for its fine chocolate, can require some research.
In Europe, Godiva or Cote d'Or may be easy decisions, but where do you go in Cairo when you get a craving for good chocolate, or when you're tired of taking Oriental sweets and cupcakes to every gathering? As two Egypt Independent foodie researchers, it was our duty to solve this dilemma once and for all.
We decided the Cairene island of culinary variety, Zamalek, was our best bet.
Fauchon
Located in front of the Gezira Club, next to the Bakery Shop, is a little choco-centric venue called Fauchon. Under its softly lit glass counter lie gold, pink and green cellophane-covered chocolate cubes that vary between noisette, creme de noisette, almond, milk chocolate and pistachio, among others.
Consensus has it that by far the best choice is the "coffee" chocolate — two layers of chocolate sandwiching a light, creamy layer of coffee paste. One kilo of these little delicacies will cost you a small fortune, but, of course, it's all about how much delicious chocolate means to you.
In each piece — save the crocant, which is a little sticky — the mixture of tastes is beautiful and unique. A kilo will set you back a hefty LE860, so keep Fauchon chocolates for yourself or the people you love best.
If you're chocolate shopping for yourself, try the selection by ordering one of each of the nine flavors and paying LE81. Conclusion: Fauchon is Cairo's best established chocolatier but also its most expensive.
Fauchon
4 Gezira St., Zamalek, Cairo
Patchi
Patchi's welcoming store on Taha Hussein Street is larger than the others. The walls are lined with lime-green boxes of chocolate; modern, elegant and equipped with a full nutritional breakdown complete with calorie counts and ingredients.
Across the wall, by the window, is Patchi's more classic collection: from elaborate wooden boxes to fine Italian china, your chocolates will definitely arrive at your destination in style.
The Lebanese brand imports all its chocolate ingredients and assembles the final product in Egypt. The five branches in Cairo all offer top-quality chocolate with prices slightly higher than their competitors.
Prices range from LE210 per kilo for plain chocolate all the way to LE800 for the chocolate-covered marron glace. Patchi also offers sugar-free chocolate for LE310, made with a sweetener called maltitol.
Its chocolate definitely tastes good — a higher caliber than your regular Egyptian chocolate.
Patchi
15C Taha Hussein St., Zamalek
Celebrations
The Celebrations store offers the right balance of tasty chocolate and more affordable pricing. Its wide range of plain chocolate and chocolate with mint, crisp, nuts and marron makes them an easy and tasty choice.
The store is known for its elegant displays of chocolate for special occasions such as weddings and birthdays. You can also send them your own trays if you'd rather not purchase theirs.
Aside from the chocolates, the chocolatier also offers a range of cute giveaways that you can distribute with the chocolates at weddings and baby showers. Prices range from LE80 to LE200 per kilo.
Celebrations
4 Brazil St., Zamalek
Choco Chocola
Choco Chocola is located in the middle of Hassan Sabry Street, the heart of the island. Aside from a large collection of chocolate and a variety of fillings, the renowned chocolatier is known for what it calls "chocolate ice cream": little pieces of chocolate stuffed with flavored ice cream.
The range include strawberry, mango, cheesecake, chocolate, vanilla and raspberry yogurt flavors. The cheesecake and the yogurt are particularly good. The contrast of tastes between the chocolate coating and cold, sweet filler is what makes this product successful and tasty, but the chocolate does need to be of a better quality.
They cost LE3 per piece and must be stored immediately in the freezer. Choco Chocola's ordinary chocolate is adequate in taste and quality, and costs LE290 per kilo.
Choco Chocola
11 Hassan Sabry St., Zamalek
Passionelle
Unfortunately, Passionelle did not impress. White spots covered our piece of chocolate, which had obviously melted and regrouped numerous times.
The quality of the chocolate was also not up to par — it was too sweet and too milky, which kills the flavor of the cocoa. The shop took some risks with its prune chocolate and marron glace, which could have worked had the chocolate itself been better.
Chocolates here are sold at LE210 a kilo and, like Choco Chocola, each chocolate can also be personalized.
Passionelle
15 Maraashly St., Zamalek
JK Chocolates
Having stepped off the island, with the project complete and our minds made up, a young entrepreneur approached us with some chocolates on Road 9 in Maadi. JK Chocolates is presently by order only, but the quality made it worth mentioning on our list.
JK doesn't skimp on quality and its strawberry and chocolate with walnut morsels matched Fauchon's creamy, luscious level. JK has also branched out into fillings like chocolate chip cookie dough and mint.
JK Chocolates are sold at LE350 per kilo. Interested customers can stop by Maadi's Road 9 by Greco Friday afternoon to try a sample.
JK Chocolates
010-6000-2600 / 010-0600-9941
This piece was originally published in Egypt Independent's weekly print edition.