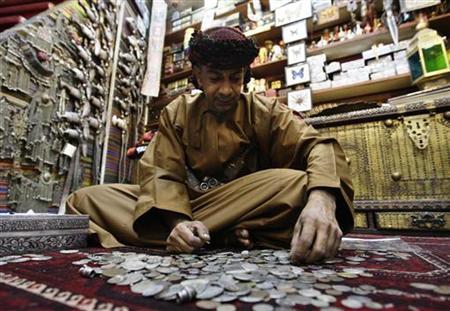 Rushing out of a bank door, Harith Mohsin smiled as he clutched a paper approving a US$50,000 state loan to start his own business, happy that he would no longer have to depend on unemployment benefits.
Mohsin, 23, is one of 1,500 young Omanis whose low-interest loans have been cleared since January under the government's self-employment financing scheme, which aims to reduce an unemployment problem that has triggered political unrest.
"I was looking for a job for a year until the Ministry of Manpower asked me if I would like to operate a business in my hometown," said Mohsin, who wants to start a tour company in the northeastern city of Ibri, which is near old forts and tombs.
"This is an opportunity for me to be my own boss."
Late last year Sultan Qaboos bin Said, who has ruled for 42 years, ordered a fourfold boost in funds available for the program to 60 million rials ($156 million) annually as one measure to slash the jobless rate.
The scheme offers loans with an annual rate of 2 percent and a one-year grace period for repaying credit above 5,000 rials. No interest is charged at or below this amount.
Unemployment among Omani citizens exceeded 24 percent in 2010, according to an International Monetary Fund estimate based on the latest population census, though the IMF conceded that the number might include many people who were not truly looking for work. The government does not release jobless data.
Political stability in Oman, which has seen sporadic street protests demanding jobs and a crackdown on corruption since February 2011, is important for the region because the small oil producer sits on the Strait of Hormuz, through which almost a fifth of oil traded worldwide passes.
To appease protesters, the government created some 44,000 new public sector jobs in 2011, raised the minimum wage for Omanis in the private sector, launched a new unemployment benefit, and almost doubled the intake for higher education.
But annual growth of roughly 3 percent in Oman's native population of about 2 million is aggravating the unemployment problem. Moreover, despite strong growth in the total number of jobs available, most new private sector positions have gone to some of the over 1 million foreigners working in the sultanate.
Last month, a finance ministry official told Reuters that Oman, flush with a budget surplus from high oil prices, had allocated an additional $1 billion to create new jobs over the next 12 months.
However, a strategy relying on public sector jobs may not be sustainable in the long term. Oman's modest proven oil reserves, which provide nearly 70 percent of budget income, are expected to last just 17 years at the 2011 rate of production, according to the BP statistical world energy review from June.
Around 45,000 new positions for Omanis are needed each year, twice the number achieved in the five years to 2010, if the government wants to slash unemployment, the IMF estimated in a report last December. "To be sustainable, these new jobs will have to be in the private sector," it said.
Hence the government's emphasis on fostering new private sector entrepreneurs such as Mohsin.
Cutting oil reliance
Only a fraction of Omanis will ever start their own firms, though; most of those in the private sector will have to work as salaried employees. And here the government's plans are running up against harsh reality, as they are in other Gulf states.
Despite Oman's healthy 2011 economic growth of 5.5 percent, many firms are reluctant to hire locals, blaming insufficient training and education and high salary expectations.
"Only 20 percent of 50,000 jobs were created by the private sector, and only because the government forced them to," said Ahmed Saleem, a consultant at job recruiter Capital Manpower Co.
Khalid al-Khammasi, 21, who has been looking for work since finishing secondary school in June, said, "I want a job but all three places I have been to insisted on a degree, which I don't have.
"We can't all be business people. It is not for some, and I know I would lose money if I ventured in it."
The IMF says reducing unemployment will require diversifying the economy away from oil as well as better education and training, since neither the hydrocarbon sector nor new energy-intensive industries provided many jobs.
One positive sign this month was news that three companies from Oman, Saudi Arabia and the United Arab Emirates had formed a joint venture to build a $400 million steel plant in the southern city of Salalah.
The venture, which is the country's second steel firm, said it would create job opportunities for over 1,000 Omanis. Demand for the steel is expected to come from the oil industry and a 5 billion rial project to build a national railway.
But many more such companies will be needed if the government is to meet its projection of seeing between 200,000 and 275,000 job opportunities created between 2011 and 2015. Authorities say they will focus on fostering labor-intensive sectors and smaller firms, while improving education and training.
Escape route
Meanwhile, the launch of the new unemployment benefit has given some Omanis an escape from the private sector. Many find jobs there unattractive because of harder work, longer hours, and often smaller pay and benefits compared to the state sector.
"I used to work for 12 hours a day, earning just 290 rials a month as a waiter," said a 24-year old school graduate who did not want to be identified. "Why should I do it when I am getting the unemployment benefit of 150 rials a month?"
Mohammed al-Harthy, human resources officer at property developer Al Mouj Al Khaleej, said many young people took advantage of the unemployment benefit and never really looked for jobs. "We had 54 of them rejecting positions in the last six months, citing long working hours and lower salaries," he said.
Omanis formed a mere 14 percent of the private sector labor force of 1.3 million in 2011, a central bank report shows, only slightly more than 10 percent in neighboring Saudi Arabia.
Worryingly for the government, this ratio may have stopped rising. After the number of Omanis working in the private sector jumped 11 percent a year on average in 2008-2010, it fell 2 percent to 174,441 last year. At the same time, employment of expatriates soared 17 percent to 1.1 million in 2011.
Minister of Manpower Sheikh Abdullah al-Bakri, in a recent newspaper interview, urged job seekers to take any available employment because "there is no shame" in working long hours for less pay.
The IMF said Oman might need to consider raising the cost for foreigners of obtaining work visas, or introducing temporary employment subsidies for Omanis in the private sector, to create the right incentives for more local people to enter employment.
The first measure might slow economic growth, however, if it reduced companies' ability to hire capable and competitively priced foreign workers. The second step could prove expensive for the government, committing it to another big spending program that would be difficult to wind down without risking a renewed exodus of Omanis from private employment.