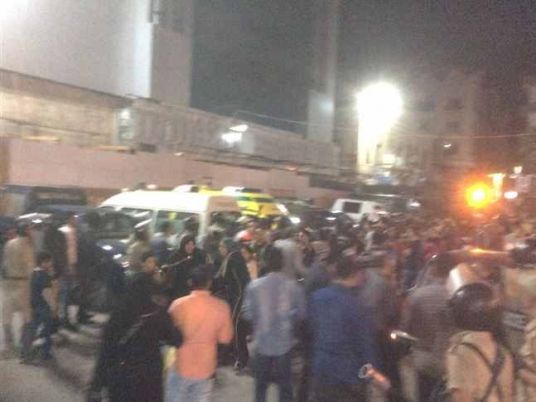 Investigations into the 48 defendants, who are accused of belonging to the Islamic State and orchestrating terror attacks on churches in Egypt, have revealed that they received money and weapons from IS in Libya, the Supreme State Security Prosecution said.
According to investigations, 18 of the suspects are related to varying degrees; 31 have been detained pending investigations, and 17 others are wanted by the police.
The suspects are accused of plotting the Botroseya church bombing that killed 29 people in December as well as the Palm Sunday church bombings in April that targeted Saint Mark's Coptic Orthodox Cathedral in Alexandria, killing 18 people, and Saint George's Coptic Cathedral in Tanta which left 29 dead.
The defendants made detailed confessions before the prosecutors. The investigations show that the suspects used cell phones with protected SIM cards, and communicated through the Telegram application and encrypted text messages.
Amr Saad, one of the leaders of the organization, was joined by some of his relatives, including his brother Omar and his brother-in-law Mahmoud Mubarak, who bombed Saint Mark's Coptic Cathedral in Alexandria.
Rami Abdul Hamid, admitted that Mahmoud Mohamed Mustafa, who was involved in the Botroseya Church bombing in Abbasiya, is a member of IS in Sinai.
Walid Abu al-Majid, accused of plotting Botroseya church bombing, is the brother-in-law of the suspect Abdul Rahim Hassan who is an IS member.
Abu al-Majid admitted in the investigations that he joined the IS terrorist organization, embraced Takfiri thoughts, received training and education for the purpose of committing terrorism-related crimes, as well as aiding the attack on Botroseya church.
He said he traveled to North Sinai in February 2016 to join IS but he failed to reach any of its members; then he decided to travel to Syria via Saudi Arabia after the Hajj and join IS there.
The suspect said he and other members in the cell received military training on how to use automatic weapons, raise their physical fitness, combat methods, and how to breach police buildings and checkpoints. He added that all the training took place in a desert area near the Western Desert road in Sohag governorate.
The members of the terrorist cell were given fake names by the suspect Amr Saad Abbas, and changed their SIM cards periodically. They communicated with each other via the Telegram application and encrypted text messages, in order to avoid security monitoring.
Abu al-Majid said the cell relied on donations from its members, a car provided by the suspect Mohammed Yousef Abu Bakr, as well as 70,000 Libyan dinars, firearms, ammunition, 21 automatic guns and RPGs.
He explained that IS militants from Trirpoli smuggled these items across the western border.
Edited translation from Al-Masry Al-Youm