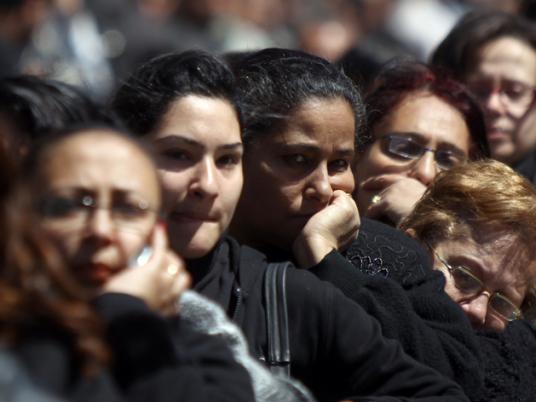 A unified draft law regulating marriages and divorces for all of Egypt's Christian denominations is largely being supported by Egyptian churches, a senior bishop has revealed.
Mounir Hanna Anis, the Archbishop of Egypt's Episcopal Church, said a "Personal Status" draft law jointly prepared by the Transitional Justice Ministry and the churches is enjoying the support of 95 percent of Egyptian churches.
"There are some mild differences related to the nature of every church," Anis explained. "The Catholic Church, for instance, recognizes separation instead of divorce," he added, noting that the Evangelical Church backtracked on its support of civilian marriage.
Demands by several members of the Coptic community on the adoption of civilian marriage and the right to divorce have been highly contentious for years.
Late Pope Shenouda III had disposed of a 1938 by-law which set several conditions allowing Copts to request a church-sanctioned divorce, replacing it with another that limited reasons for divorce to adultery or faith conversion by either spouse.
Besides the highly-confrontational issues of divorce and second marriage, the proposed law also tackles issues related to adoption.
"The Egyptian churches have omitted adoption from the new law so as for it not to be rejected by the next parliament, though Article No.3 of the constitution allows Christians to refer to their religious legislation as far as personal statuses are related," said Anis.
Father Rafiq Greish, spokesperson for Egypt's Catholic Church, said churches are awaiting the election of the next parliament to pass the law which, he noted, is of interest to President Abdel Fattah al-Sisi. He added that the presidency had tasked the judiciary with issuing laws regulating Coptic issues, such as personal affairs and church constructions.
A senior official source at the Coptic Orthodox Church, Egypt's largest denomination, said, however, that the church still adheres to its rejection of civil marriages.
"The state is free to issue legislation for all citizens, but as for personal affairs laws, we will never accept what is against the Holy Bible," the source said. "The unified law enjoys the backing of all denominations while taking into account the specialities of each one".
Edited translation from Al-Masry Al-Youm
*Correction: This article perviously said 95 churches support the law, and has been corrected to 95% of churches.