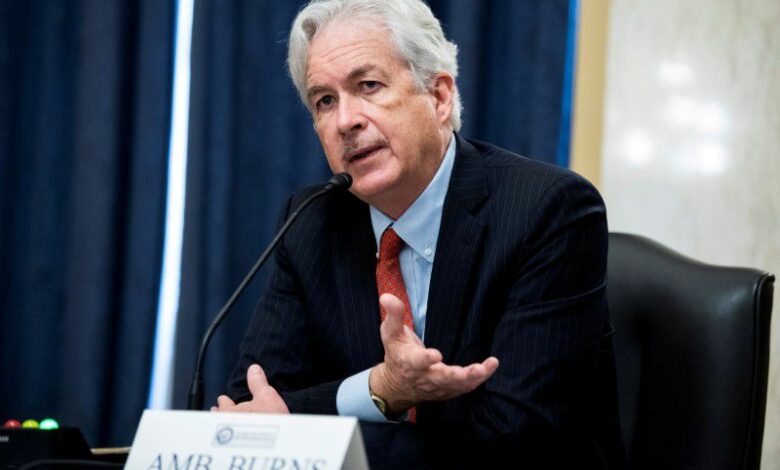 CNN
 —  CIA Director William Burns recently traveled to
Ukraine
and met with President Volodymyr Zelensky and Ukrainian intelligence officials, according to a US official.
"Director Burns recently traveled to Ukraine, as he has done regularly since the beginning of Russia's recent aggression more than a year ago," the official told CNN. "As with other trips, the director met with his Ukrainian intelligence counterparts and President Zelensky, reaffirming the US commitment to sharing intelligence to help Ukraine defend against Russian aggression."
The official noted that Burns traveled to Kyiv before Wagner Group chief Yevgeny Prigozhin's rebellion, which was not a topic of discussion.
Another official told CNN that Burns also spoke to his Russian counterpart, Sergey Naryshkin, after the rebellion and reiterated that the US had nothing to do with it. The Wall Street Journal first reported on the call.
The Washington Post first reported on Burns' most recent trip to Ukraine.
"Disaffection with the war will continue to gnaw away at the Russian leadership, beneath the steady diet of state propaganda and practiced repression," Burns said Saturday in remarks to the Ditchley Foundation in England, according to a transcript of his speech.
"That disaffection creates a once-in-a-generation opportunity for us at CIA, at our core a human intelligence service. We're not letting it go to waste," he said.
CNN previously reported that the CIA has launched a new effort to recruit Russian spies that includes a social media campaign to convince Russians disaffected by the war in Ukraine and life in Russia to share their secrets.
Burns also addressed the recent Wagner Group rebellion, saying that Prigozhin's actions and speech prior to his group's attempted march to Moscow illustrate how the war has undermined Russian leader Vladimir Putin's power.
"It is striking that Prigozhin preceded his actions with a scathing indictment of the Kremlin's mendacious rationale for its invasion of Ukraine, and of the Russian military leadership's conduct of the war. The impact of those words and those actions will play out for some time, a vivid reminder of the corrosive effect of Putin's war on his own society and his own regime," Burns said.
The Post also reported that Burns had met earlier in June with Ukrainian officials, who revealed a strategy to retake Russian-occupied territory and open cease-fire negotiations with Moscow by the end of the year, according to officials familiar with the visit.
This story has been updated with additional information.
CORRECTION: This story has been updated to correct the details of Burns' discussion with Naryshkin.
CNN's Sam Fossum contributed to this report.