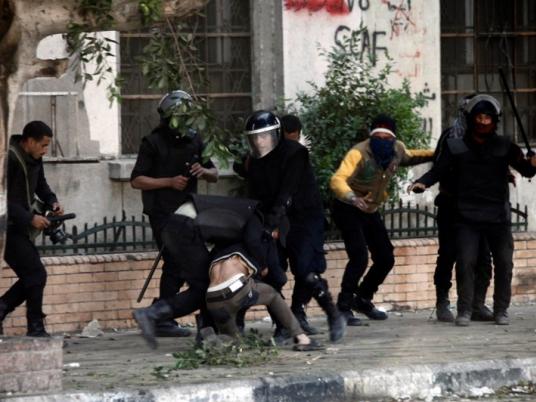 Clashes between protesters and security forces broke out again Wednesday evening in Simon Bolivar Square, near the US Embassy in Cairo and Tahrir Square.
The demonstrators hurled stones and Molotov cocktails at security personnel, who responded by firing teargas canisters, eyewitnesses told Al-Masry Al-Youm.
State-run Al-Ahram newspaper quoted a doctor in a field hospital near the Mugamma in Tahrir as saying he performed first aid on a female protester whose legs were injured after she was run over by a vehicle.
Her relatives then took her to a hospital, and the number of protesters increased amid rumors that she had passed away, the doctor told Al-Ahram.
The privately-owned Sada al-Balad news website reported that protesters set ablaze one police vehicle, and that police forces extinguished the fire before it spread.