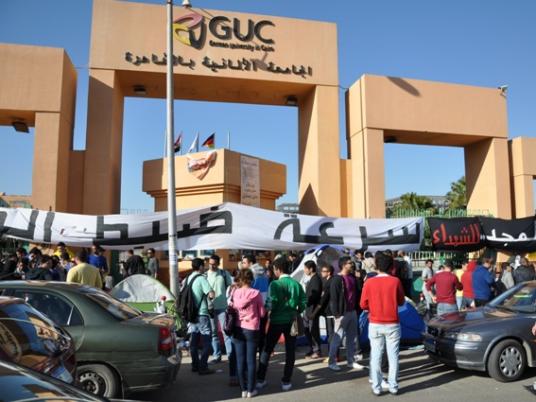 Clashes erupted Saturday morning between students and German University security in the Fifth Settlement neighborhood of Cairo after students tried to access campus to hold elections on the student's regulation list of the university.
Mohamed Abdel Wahab, a student at the university, said that university security prevented students from entering with glass boxes to hold elections and smashed them, leading to clashes.
He added that one student was injured during the clashes, but the police department refused to file a complaint on her behalf.
The student union at the German University had drafted a new student regulation list, which they say was to ensure the control of the security services on student activities within the university.
The university administration, however, refused to accept the list without it being discussed by university officials.
A number of the students then announced a protest for Saturday morning in front of the main gate of the university to get the referendum boxes onto the campus so that students could vote on the new list modified by lists. The voting was to take place 22-23 September.
The university refused to let the student union participate in drafting the new regulation list and dismissed it, prompting the union to try and draft the list itself.
State run daily newspaper Al-Ahram quoted a number of students supervising the referendum as saying that the proposed regulation list that would be put forward would be subject to debate even if it passed a referendum, pointing to the need for a student regulation list that ensures their rights within the university.
Edited translation from Al-Masry Al-Youm