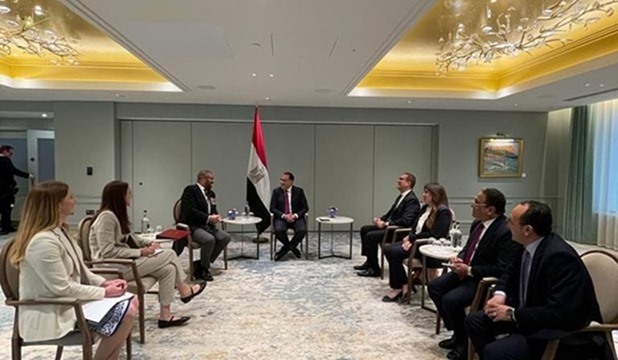 British Foreign Secretary James Cleverly stressed that relations between Egypt and the United Kingdom extend for many years and Egypt is an important partner for us, stressing the importance of working in the coming years to strengthen bilateral relations to greater levels, as Egypt is an important international actor and a friend of the United Kingdom.
This came during a meeting Saturday evening between Egyptian Prime Minister Dr Mostafa Madbouli with the British Foreign Minister on the sidelines of his participation, on behalf of President Abdel Fattah El Sisi, in the coronation ceremony of King Charles III, in the presence of Egypt's Ambassador in London Sherif Kamel.
The British official expressed his country's thanks to Egypt for the assistance it provided in evacuating UK nationals from Sudan, praising excellent relations with Foreign Minister Sameh Shoukry and their consultations regarding the Sudanese crisis.
Madbouli congratulated the British Foreign Secretary on the occasion of the coronation of King Charles III, praising the distinguished organization of the coronation events which came to reflect the heritage and history of this great country.
Cleverly also thanked Egypt and its leadership for the high-level Egyptian participation in the coronation ceremony, praising the long-standing cooperation relations between Egypt and Britain.
The meeting touched on the situation in Sudan, where the two sides expressed the importance of strengthening international efforts aimed at reaching a quick solution that stops the armed conflict and ensures the security and safety of the Sudanese people. The Prime Minister explained the efforts made by Egypt to accommodate the brothers coming from Sudan.
During the meeting, the Prime Minister reviewed the state's efforts over the past years, including building a civilized public transport system that includes the monorail, subway, light rail and others, saying "we have a public road network that has been developed at the highest level, so that it can cope with the large annual increase in population."
The British Foreign Secretary praised cooperation with Egypt in many projects, including the monorail project, saying "this cooperation serves future relations between our two countries and benefits the two peoples."
The British Foreign Secretary also praised the distinguished organization of the COP27 climate conference, hosted by Egypt, and the efforts of the Egyptian presidency of the conference in reconciling the various parties during the negotiations, saying "you have done a very successful job."
The meeting also dealt with the economic impact of the Russian-Ukrainian crisis on various countries of the world, and the resulting crisis in energy and food.