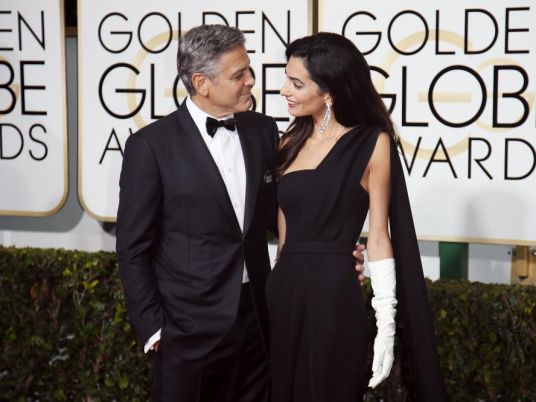 Hollywood heartthrob George Clooney straps on a jet pack again for Disney's new movie "Tomorrowland," a retro-futuristic spectacle mixing environmental themes with sci-fi wizardry — and some good old-fashioned fun.
Clooney, who fired up his thrusters only two years ago in Oscar-winning space drama "Gravity," stars as a burned-out engineering genius in the film to be released next week, just in time for the summer blockbuster season.
The actor said the movie, which is difficult to categorize, was a courageous gamble by the studio giant, going up against sure-fire box office hits like the latest "Avengers" sequel, "Age of Ultron."
"It's a really bold thing for Disney to be willing to do a film that isn't a sequel and isn't a comic book and truly invest in a summer film of this sort of ilk," he said, presenting the film ahead of its US release on May 22.
The movie's plot has been shrouded in secrecy and, without giving away spoilers, it certainly provides a rollercoaster cinematic ride worthy of Disney's Tomorrowland theme parks whose name it shares.
It tells the story of teenage rebel Casey, played by Britt Robertson, who finds herself sucked into a mission to unearth the secrets of "Tomorrowland," a future realm ruled by a despot played by British "House" star Hugh Laurie.
Clooney plays inventor Frank Walker, who found his way into Tomorrowland as a young boy but became cynical and was thrown out by Laurie's character, David Nix.
Eiffel Tower spectacle
The climax comes after some spectacular scenes, including one featuring the Eiffel Tower, showcasing computer-generated imagery by director Brad Bird, who won an Oscar for animated film "The Incredibles" in 2005.
It is unclear what Tomorrowland represents — some kind of collective consciousness of the future might be a best bet — but the basic theme of the movie is that optimism should overcome cynicism.
"What I loved about the film was that it reminds you that young people (are) not… born and start out their lives cynical or angry or bigoted, you have to be taught all of those things," said Clooney.
"I watch the world now and think I see really good signs from young people out there, and I feel as if the world will get better," added the actor, whose previous sci-fi outings have included 2002's "Solaris."
Robertson said climate change was also a key theme.
"It's us that's creating that issue, it's not anything other than the people and the environment and what we're doing to the environment," the 25-year-old actress told AFP.
"I do think it's all of these issues that provoke the post-apocalyptic movies you see where the world is ending, whether it be environmental or technological," she added.
The Disney film is also a tribute to the studio giant's founder, Walt Disney.
"Walt was a futurist. He was very interested in space travel and what cities were going to look like and how transportation was going to work," said Damon Lindelof, who co-wrote the movie with Bird.
"Walt's thinking was that the future is not something that happens to us. It's something we make happen. And we really wanted to take that baton and run with it," he told industry publication Variety.