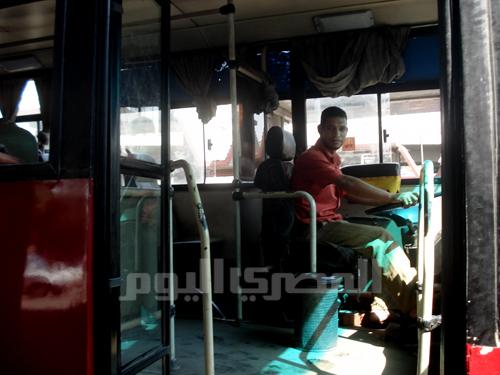 "If you get stuck in a traffic jam all the time and have no other job to get to, there is nothing to do but to accept it," says Abdel Fatah Hassan, a public bus driver with 10 years of experience. Hassan believes this simple life philosophy allows him to handle his hectic daily work environment.
"Swerving through Cairo's ultra-congested streets has taught me how to be patient," he continues with a smile. "And that is the only advantage I gain from this job."
Hassan's eight-hour shift starts at 2 pm. He usually doesn't wake up early, especially after spending time with his wife and four-year-old when he returns late from work.
He takes a microbus from his home at Helwan to Abdel Moneim Riyad Square, Cairo's main public transportation hub. Hassan arrives ten minutes late but, he says, "It is not a big deal." He never leaves immediately, as he waits until passengers fill up some of the seats in the bus first.
"Sabah al-Ful!" he greets his colleagues in a cheerful tone, asking for a cigarette from the driver who he changes shift with. It doesn't take too long before the bus is loaded with people. He takes a long drag from his nearly-finished cigarette before he throws it into the street.
On his daily route from Tahrir Square to Hegaz Square in Heliopolis, Hassan picks up dozens of passengers. Some signal the bus to stop by raising their arms, but this doesn't always bring the bus to a halt.
"I can't stop for everyone along the route or I will cause thousands of accidents," Hassan says. Instead, he often slows down so that passengers can run and catch the bus.
"This is the worst shift. It's the time employees and students leave work and schools. You have nowhere to escape the congestion," Hassan says, adding, "The worst is yet to come."
He's right. By 4 pm, traffic is at a standstill and the bus is packed with commuters. Purchasing a bus ticket, of course, does not guarantee a seat at peak time. For a handful of hours, people stand with the physical support of each other's bodies.
As the traffic remains paralyzed, Hassan gets out of his bus and buys take-out. While waiting for his koshary, he keeps an eye on the traffic light. His order is ready in time, and he returns behind the steering wheel before the light has changed color.
"I don't have a break in the middle of the day. I am forced to grab something to eat from the street, so I can survive the physical effort and pressures of the day," Hassan says.
As things start to slow down at about 7 pm, Hassan uses one hand to maneuver his way through traffic and the other to eat from his plastic koshary container.
The day goes smoothly, until a quarrel sparks suddenly between Hassan and a policeman in the bus, whose shouts draw the attention of passengers.
"Stop here," the policeman says repeatedly in an angry tone. "I told you I cannot drop you off in the middle of the street. It is too dangerous, I'd collide with cars if I did so," Hassan replies.
When the policeman insists on getting off the bus at an authorized stop, Hassan slows down towards the sidewalk till he comes to a full stop.
As the policeman leaves the bus, Hassan murmurs, "Cops will never change. Even after the revolution, they still treat people as slaves.
"If I didn't drop him off where he wanted, he would have issued a ticket for traffic violations that costs my whole salary."
According to Hassan, traffic fines — which are deducted from drivers' salaries — begin at LE500 and can amount to as much as LE1,000.
"I am not against facing penalties for breaking the rules, but the maximum fine should be fair and not more than we can afford," he says. "If I get four tickets a year, my family and I will go without money for months."
Hassan's monthly income, including bonuses, does not exceed LE500. Back in Abdel Moneim Riyad Square, Hassan and a group of colleagues chitchat about the election results over tea.
Hassan was one of the workers who joined the public transportation strike last March.
The workers demanded an end-of-service payment equivalent to the sum of 100 monthly salaries, and to affiliate the Public Transport Authority with the Transportation Ministry.
Members of the Public Transport Workers Syndicate submitted their demands to Prime Minister Kamal al-Ganzouri in a last-ditch attempt after leaving a meeting with the governor of Cairo empty-handed. Public transportation syndicate members organized a sit-in inside their buses in front of the cabinet headquarters until their demands were met.
"The sit-in ended with a list of promises and nothing has been done," he says.
Before heading back home at 10 pm, he seems exhausted and sleep lingers in his eyes, "We've nothing to do but hope the Islamists will take our demands into account after gaining power," Hassan concludes in a bitter tone.
Read more from the "Cogs in the wheel" series which takes a magnifying glass to one person, a representative of a job that keeps the city ticking. Visit www.egyptindependent.com/taxonomy/term/261161.
This piece was originally published in Egypt Independent's weekly print edition.