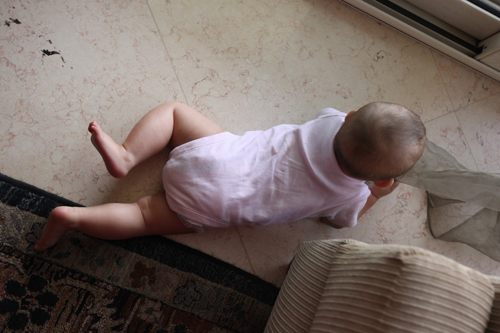 Soha Magdy wakes up every weekday at 6:30 am. With tea and a piece of mahlab bread, the 30-year-old housekeeper and nanny smokes her morning cigarette before her husband wakes up. She prepares him a couple of fuul sandwiches before she gathers her bag and her phone, and puts her hair in a ponytail.
Mornings are calm in the Talbeya neighborhood at 7 am, which is better, as nobody notices Magdy walking briskly through the streets in her black Nike walking shoes, donated by Madame Karima, the woman who employs her.
"On the way home, there's usually trouble," says Magdy. "Men comment on what I'm wearing, but that's not the worst of it. A woman's clothes were ripped off by three young guys in the evening last week — they were trying to touch her. I wanted to help, but there was nothing I could do because they had a knife."
Magdy lives in a neighborhood that is close to her family and her father's butcher shop.
"I have four brothers and two sisters, and my brothers work as butchers, like my father." She says she thinks this gives her some protection.
Two blocks to the left and three to the right, Magdy reaches a microbus stop, where she picks up her first transport to the Moneeb Bridge.
"Some mornings I take a tuk tuk," she says.
Despite quite a bit of pressure from her neighbors, family and friends, Magdy chooses not to put on the veil. She is Muslim and although she believes it is the "right thing to do," she has resisted thus far.
"I live a certain lifestyle. I wear pants, three-quarter-length sleeve shirts, I drink on occasion with my husband — how can I wear the veil?" she asks.
By 7:30 am, she's on the third microbus heading into Maadi and asks to be dropped off at the roundabout after the bridge, giving her a 20-minute walk down Port Said Street to Karima and Adel's home in Degla.
"The work here is not too tough," Magdy says with a smile, as she picks up Karima's 1-year-old, Youssef. From 8 am to 6 pm, Magdy is expected to clean the house, cook and wash clothes daily. She irons three times a week and is expected to care for Youssef throughout the day. He takes a two-hour nap around 2 pm.
"At my last job, there were three children. They were great, but it was much harder to get anything done. … Thank God, this time it's only Joe," she says, referring to Youssef by his nickname.
Magdy has a story that she says has become only too common in her community. Her husband, Mohamed, promised to carry the financial weight in their marriage when he proposed to her father. But, following the birth of her second child, he became ill and was forced to be at home for a while.
Despite what she believes is a full recovery, Mohamed says the pressure is too much for him to go back to work. Her sister cares for her two girls, Iman and Malak, and she has been the sole breadwinner for the family for the past five years.
"My father saw Mohamed sitting at the cafe one day last Ramadan and beat him up and swore at him," Magdy says, "but God knows it's not Mohamed's fault — he can't find a job, you know."
The day's chores are routine: wash the toilets, mop the floors, feed Youssef and give him his milk. Karima doesn't work and drifts in and out of the house for errands and to meet friends. Adel, her husband, often travels for work.
"Sometimes Madame Karima lets me go early," says Magdy, "and I try to plan things with my friends before Mohamed expects me home."
Despite her financial independence and work-related responsibilities, Mohamed tries to make sure she goes straight to her sister's from work to pick up the children.
But today is not an early day. Karima is only home at 6:30 pm so Magdy grabs a cab to go home.
"I rarely do this," she says, "but Mohamed is expecting me back to make dinner tonight because he's invited his sister over and I can't be late."
Magdy makes about LE1,540 a month, calculated by her employer as LE70 per day.
"When she's late, I get an extra LE10, if she remembers," Magdy says. Taking a taxi back to her neighborhood uses up more than half a day's salary.
Back in Talbeya, Magdy picks up her children from her sister Magda's house.
"Magda has no children and she's always willing to take care of mine," Magdy says.
It's Thursday and, after dinner, there's a wedding in the neighborhood.
"I'm going with Mohamed," says Magdy, "but I get ready with my sister. She does my hair because she used to work as a coiffeur, and I'm the only one who shows my hair."
Tonight, Magdy is wearing a green dress that she's borrowing from the woman who lives upstairs. As they head out together, Magdy puts on her gold-plated bracelets and an extra coat of pink lipstick, a gift from Karima for Magdy's last birthday. The wedding is set up around the corner, so her mother will come over and stay with the children, who are 6 and 8 years old.
"The girls will come to the balcony to listen to the music and look at the multi-colored lights hung along the buildings," says Magdy, though she knows her mother will make them go to bed eventually.
Egypt is a massive living organism — a web of ticking clocks, each set to a slightly different millisecond. Doctors, valets, belly dancers and beggars … Cairo keeps 18 million cogs in one of the world's busiest wheels. The "Cogs in the wheel" series takes a magnifying glass to one person, a representative of a job that keeps the city ticking. For more stories in the series, visit www.egyptindependent.com/taxonomy/term/261161
This piece was originally published in Egypt Independent's weekly print edition.