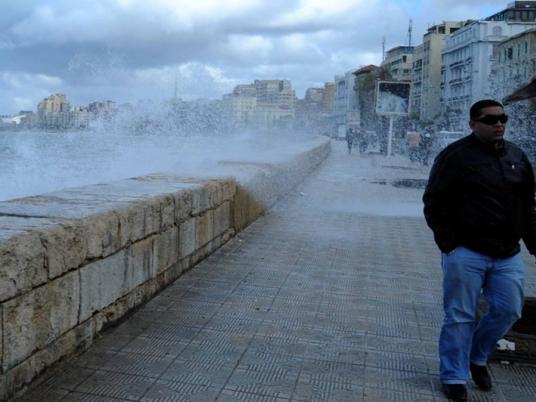 Meteorologists predict cold weather to continue on Wednesday across Egypt during daylight hours, growing even colder by night.
Temperatures predicted for the following cities are 15C in Alexandria, 16C in Cairo, 17C in Qena, 18C in Luxor and Hurghada, 19C in Aswan and Sharm al-Sheikh.
Mist will hamper visibility across the country's northern parts, with low and medium-level clouds are expected in the northern parts of the country, accompanied by rainfall on northern coasts.
Winds are expected to be mostly southwestern, active on the Red Sea and the Mediterranean Sea and may disrupt the maritime navigation there.
Waves in the Mediterranean Sea will be rough and range between 2.5 to 3 meters in height, with southwesterly surface winds, while waves in the Red Sea will be moderate to rough and range between 2 to 2.5 meters in height, with northwesterly surface winds.
Chairman of the Egyptian Meteorological Authority (EMA) Ahmed Abdel Aal warned citizens against continued cold winds and low temperatures until the end of the week.
During a phone-in with the al-Hadath al-Youm satellite channel on Monday evening, he advised people to wear heavy clothes, especially during the late hours of the night.
He explained that the chance of rainfall will increase on the northern coasts, adding that the minimum temperature in Cairo reached 8 degrees at night on Sunday, with some areas ranging between 6 to 7 degrees.
Edited translation from Al-Masry Al-Youm