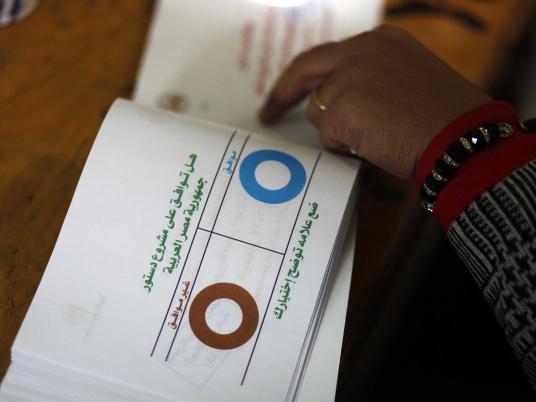 The High Judicial Elections Commission has started investigating complaints filed about the first stage of the constitutional referendum, which took place on Saturday.
HJEC member Mohamed al-Tambouli said on Monday that the commission received several complaints via its hotline from individual citizens and civil society organizations. The complaints included allegations of collective voting, pressuring voters, delays in opening polling stations and the absence of judges at some stations.
The outcome of the investigations would be announced at the same time as the results of the referendum, he said.
Ten governorates including Cairo voted on Saturday, with preliminary results indicating that 57 percent voted for and 43 percent against the controversial draft constitution. The remaining governorates would vote this Saturday.
Judges Club spokesperson Mahmoud Helmy al-Sherif said the club has received no evidence of rigging during the first round, adding that the club only receives complaints and is not an investigative authority.
Sherif told Al-Masry Al-Youmn that if judges call for a general assembly meeting to reconsider judicial participation in the poll, the club would accept.
The Judges Club had announced that it would boycott the referendum in protest against President Mohamed Morsy's recent decisions, alleging that 90 percent of judges rejected participation in the poll.
Edited translation from Al-Masry Al-Youm