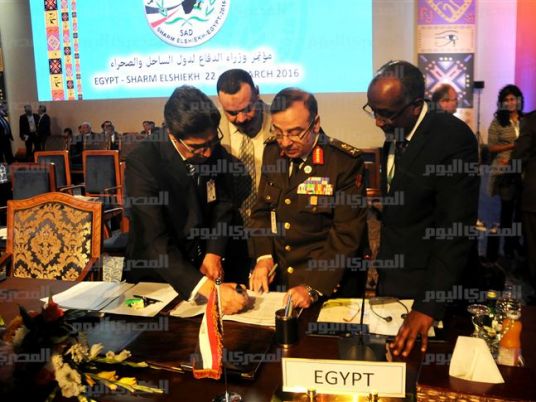 Tuesday marked the first day of the Conference of Defense Ministers of the Sahel-Saharan States.
The defense ministers of the Community of Sahel-Saharan States held a meeting Tuesday in Sharm el-Sheikh, as part of an internationally attended conference on threat of terrorism in the states.
The conference started Tuesday and is scheduled to continue until March 25.
Twenty-seven Arab and African countries are participating in the conference alongside France, Italy, Greece, Cyprus, and Spain, in addition to representatives of regional and international organizations.
The armed forces have cooperated with police forces to impose tight security measures in the city of Sharm el-Sheikh for the security of conference participants.
The conference began with a preparatory meeting of defense ministers of the Community of Sahel-Saharan States attended by the secretary general of the Community. A representative from the Egyptian Ministry of Defense then gave the opening speech for the conference.
The conference will address the security issues related to the fight against terrorism in the Sahel-Saharan States, aiming to build cooperation between military and intelligence operations. The conference will also discuss the protocol on establishing what would be called the Permanent Council for Peace and Security, a council supported by participant countries.
Edited translation from Al-Masry Al-Youm