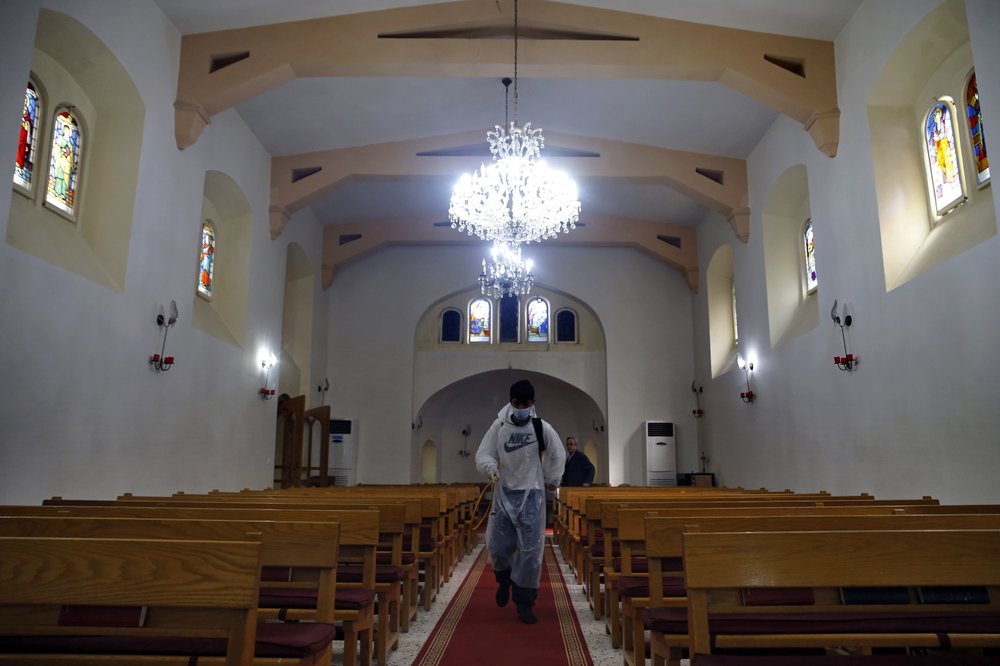 The Coptic Orthodox Church on Saturday announced the measures in place to gradually reopen churches starting Monday in Cairo and Alexandria, following closures since March 21 brought on by the coronavirus outbreak.
In a statement, the church wrote "Thank God very much for the continuous decrease in the numbers of infections and deaths from coronavirus, according to the daily data issued by the Ministry of Health in the past two weeks."
As a result, the church explained it begun partially reopening churches to hold masses, festive prayers and funerals. It assured that full commitment to all precautions will be in place, with no more than one person to be seated in each bench.
Masses will be held throughout the week except on Friday, while funerals will be held for  coronavirus victims at cemeteries.
If the trend in declining infections continues, then reopenings will proceed gradually throughout the coming weeks.
All Coptic Orthodox churches in Alexandria concluded procedures to begin receiving Coptic Christians on Monday, with specific measures in place to allow Copts to safely practice their religious rites and maintain public health.
Alexandria Hegumen Abram Emile explained that beginning Monday, various masses will be during the day at separate times to account for the needs and circumstances of all worshipers.
Emile told Al-Masry Al-Youm on Sunday that attending masses will be permitted according to prior reservation at secretarial groups assigned to receive calls from Copts interesting in attending a specific mass at a certain time.
Appointments are closed once the limit for each mass is reached, he explained, which is 25 percent of the capacity of each church.
New appointments are then opened for those wishing to attend the next mass.
In June 27, the Standing Committee of the Holy Synod of the Coptic Orthodox Church, headed by Pope Tawadros II, had extended the suspension of prayers at all dioceses under the See of St Mark on Sunday and Friday at Cairo and Alexandria up until mid-July.
The suspension decision emerged upon following up the spread of the coronavirus.
With churches at Cairo and Alexandria having seen a rise in infection rates, the committee explained at the time that the best course of action was to postpone the reopening of churches there until mid-July, where the situation will then be reassessed.
On March 21, the church closed all churches and stopped all ritual services, masses and gatherings as part of precautionary measures to prevent the spread of the coronavirus. The church's decision came after a meeting by the Standing Committee of the Holy Synod, headed by Pope Tawadros II, to discuss the pandemic's latest developments.
Edited translation from Al-Masry Al-Youm