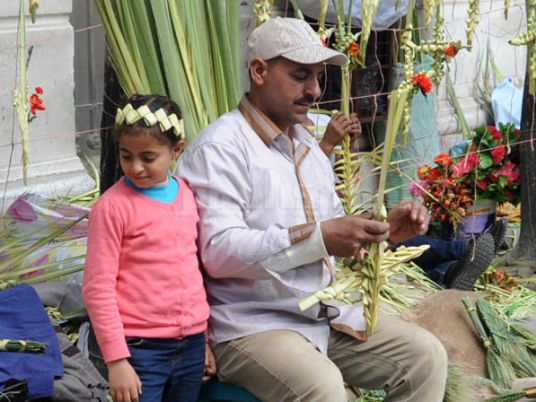 Hundreds of Coptic Christians flocked to the churches of New Valley governorate on Sunday to celebrate Palm Sunday and the beginning of Holy Week, which will culminate in a week's time with Easter Sunday.
Many gathered in the Church of the Virgin Mary in Khariga Oasis, the largest church in the governorate, for a special mass marking the high day in the liturgical calendar.
The mass was presided over by the bishop of the governorate, assisted by a number of recently ordained clerics.
The churches of St George in Dakhla and St Mina in Farafra were also well attended.
Authorities the country over have imposed tight security measures for the duration of the festival.
The churches provided palm branches – some a gift from Muslim palm plantation owners in the oases – for the congregations to craft into various kinds of decorations and ornaments, including heart shapes, crosses, crowns and rings.
Palm Sunday, when Christians remember Jesus' entry into Jerusalem on a donkey, comes a week before Easter Sunday, which marks the Resurrection. Palm Sunday also signals the end of the Copts' 55-day lenten fast.