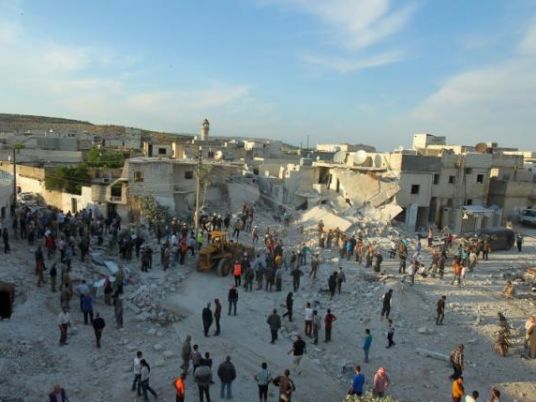 The 17-nation group backing Syria peace talks will meet next week, US Secretary of State John Kerry on Tuesday, a day after he and his Russian counterpart agreed to work to revive a "cessation of hostilities" agreement reached in February.
Kerry told reporters in London he expected UN-brokered talks involving the opposing Syrian parties to take place "some days after" the May 17 meeting in Vienna of the International Syria Support Group.
"The ISSG will formally come together to build on what we did with the Russians in terms of this agreement and to talk about all kinds of things, ranging from duration, to enforcement to the political process," Kerry said.
The United States and Russia, who support rival sides in Syria's five-year-old civil war, said on Monday they would strive to revive an accord that reduced fighting in parts of the country for several weeks.
A recent surge in bloodshed in Aleppo, Syria's largest city and commercial hub before the war, wrecked the 10-week-old partial truce sponsored by Washington and Moscow that had allowed UN-brokered peace talks to convene in Geneva.
Syria's opposition is hopeful of a return to the Geneva talks if a US-Russian deal on reviving the failed truce is swiftly implemented, a member of Syria's opposition High Negotiations Committee said on Monday.
Kerry said the approach of the US presidential election in November should encourage the parties to work toward an agreement, and he disagreed with those who argued otherwise.
"I think it's actually an incentive to get things done now, while you have an administration that you know is working for a political solution and that you know would be prepared to bring parties together around a reconstruction process for Syria."
Russian President Vladimir Putin said on Tuesday the situation in Syria remained complicated, but Moscow hoped cooperation with the United States would lead to fundamental changes in the country.
Earlier, Russia's RIA news agency quoted the Russian Defence Ministry as saying that Moscow and Washington had agreed to extend a truce dubbed a "regime of calm" in Aleppo for another 48 hours from Tuesday.