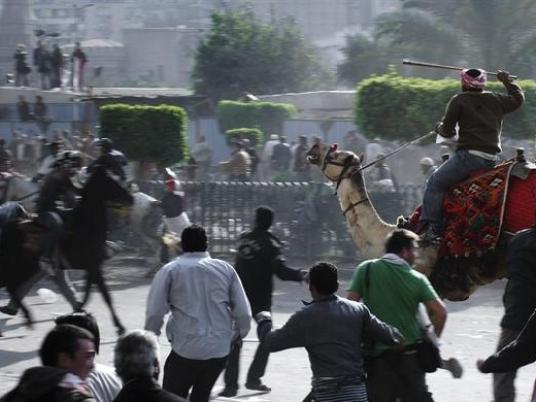 The Court of Cassation said it set a date in May to investigate the prosecution's appeal against a criminal court's ruling to acquit defendants accused of sending men onhorses and camels to attack protesters in Tahrir Square during the 2011 uprising, known as the "Battle of the Camel."
State news agency MENA quoted Abdel Jawad Morsy, a senior judge who heads the regulatory office at the Court of Cassation, as saying that the session would be held on 8 May.
The court received a memorandum Wednesday from the Central Cairo Prosecution to challenge the ruling, MENA said. The memo lists the reasons behind the appeal.
The Cairo Criminal Court, located in the Fifth Settlement and headed by Judge Mostafa Hassan Abdallah, acquitted on 10 October all 24 defendants accused of killing protesters during the Battle of the Camel on 2 and 3 February 2011.
The court said it acquitted all the defendants, who were involved in a trial that lasted for almost a year, because witness testimonies were based on hearsay and grudges against defendants over parliamentary elections.
Fathi Sorour, former People's Assembly speaker, and Safwat Sherif, former Shura Council speaker and a longtime confidant of ousted President Hosni Mubarak, were among the former officials who stood trial in the case. All defendants pleaded not guilty to the charges against them.
Both Sorour and Sherif had been recently released, despite being charged in other corruption cases.