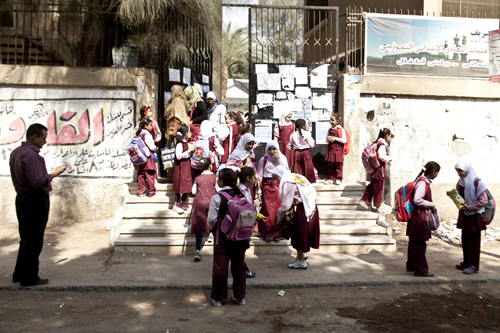 Luxor's Misdemeanor Court on Tuesday set June 11 as the date for the verdict on the case of a Christian elementary school teacher accused of evangelisation and insulting Islam.
Damiana Ebeid Abdel Nour, 23, who did not attend Tuesday's session, is accused of insulting Prophet Mohamed and preaching Christianity to the students of Naga Sheikh Sultan School.
High security was imposed at the court's premises on Tuesday. Central Security forces cordoned off the building to prevent any frictions as several members of Islamist groups, students' parents, Copts, and Coptic rights organisations were present at the area.
Plaintiffs demanded the severest punishment for the defendant, citing the accounts of prosecution witnesses and findings of the interrogations by the province's education department.
The lawsuit against Abdel Nour was filed in April by the parents of three school students. They accused the teacher of insulting Islam and preaching Christianity while teaching a lesson on religion.
Abdel Nour has been released from custody on a LE 20,000 bail.
Several blasphemy charges have been posed against art and media figures since President Mohamed Morsy and his group, the Muslim Brotherhood, came to power last year.
Last month, Amnesty International called for Abdel Nour's release and condemned her detention. "It is outrageous that a teacher finds herself behind bars for teaching a class. If she made some professional mistake, or deviated from the school curriculum, an internal review should have sufficed," said Hassiba Hadj Sahraoui, Middle East and North Africa Deputy Programme Director at Amnesty International.
Edited translation from Al-Masry Al-Youm
Edited translation from Al-Masry Al-Youm