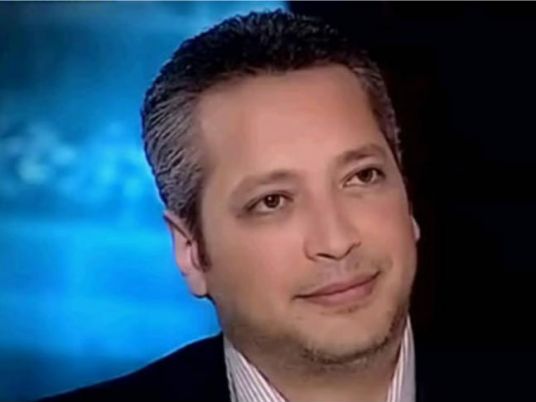 An Egyptian court on Saturday set March 30 to begin hearings for a lawsuit filed against TV host Tamer Amin, charging him with making degrading remarks against Upper Egyptians.
Lawyer Ashraf Nagy filed the case before the Misdemeanor Court of Nasr City in Cairo, accusing Amin of insulting and slandering the people of Upper Egypt and the countryside.
The incident began on Thursday, when Amin commented on his show on the Al-Nahar channel that "Egyptians in the countryside and Upper Egypt give birth to many children and do not educate them, but rather employ them in the workshops, and girls are shipped to Cairo, to work as servants and sometimes in more despicable work."
The lawsuit accused Amin of severely insulting a broad group of Egyptians and their rural lifestyle, using extremely offensive terms and descriptions that were not appropriate on a television program. It added that his remarks insulted and offended Egyptians from all walks of life, thereby "disturbing the security and public peace".
The Supreme Council for Media Regulation (SCMR) issued a decision to suspend Amin and refer him to investigation as his comments may incite bullying against rural people.
Amin on his end apologized for his comments on social media, stating "My sincere apology to all our people in the countryside and Upper Egypt."
"My statements were aimed at the public good, and I do not mean to insult anyone because Upper Egyptians are the origin of Egypt and I am proud of all our people in Upper Egypt," he explained.
He assured that he feels great respect and pride for the people of Upper Egypt.