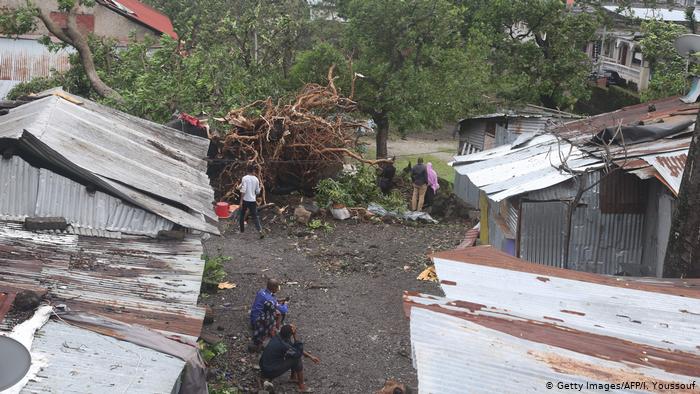 The powerful cyclone Kenneth claimed its first casualty in Mozambique when a woman was killed by a falling tree in the city of Pemba on Friday. Previously, the storm had killed at least three people in the Comoros, the island nation off the coast of Africa.
Pemba was struggling with power outages and power lines were also reportedly down in other communities in the north of the country.
Authorities reported 90 percent of houses on the nation's Ibo island in northern Cabo Delgado were destroyed by the storm.
Mozambique's National Institute of Disaster Management (INGC) sought to assure the public that food and relief equipment was already in the area.
"Our response teams were deployed on the ground," spokesman Paulo Tomas said. "We have emergency and ministerial teams there."
Kenneth reached Mozambique territory late on Thursday, with maximum sustained winds of up to 220 kilometers per hour (137 mph), the Joint Typhoon Warning Center said. Other sources reported gusts of wind hitting 280 kilometers per hour.
Meteorologists warned that the cyclone has the equivalent strength of a Category 4 hurricane, according to NOAA's Cooperative Institute for Meteorological Satellite Studies, which is tracking the storm. They added that "this is the first (and strongest) hurricane-strength storm" to hit this area of the country.
The UN warned that the latest storm — expected to dump heavy amounts of rain — could cause flash flooding and landslides in Mozambique's far north.
Authorities have warned that several rivers, as well as coastal waterways, might overflow — placing hundreds of thousands of people at risk of flooding.
The director of Mozambique's National Institute of Disaster Management (INGC), Augusta Maita, said evacuation orders were in force in Cabo Delgado Province.
"All measures will be implemented to save lives," said Maita. "We will make sure that people are evacuated today, even if it means forced evacuation," she said.
Read more: Mozambique after Cyclone Idai: 'Some people have not eaten in weeks'
"The Mozambican people know how to respond to disasters like this," he said in a televised address.
Cyclone Kenneth had already brought destruction to the Comoros, ripping roofs off buildings and causing widespread power outages in the capital, Moroni.
Police and soldiers cleared blocked roads on Thursday morning, with government offices and schools closed.
Cumulative impact of storms
Cyclone Kenneth made landfall near the port city of Pemba – further north than where Cyclone Idai first hit Mozambique last month.
Nevertheless, agencies warned that damage caused by the two weather systems — in such relatively quick succession — could have a cumulative impact on communities.
"We are especially concerned about Cyclone Kenneth's possible impact in Mozambique where communities are still recovering from the devastation of Cyclone Idai," said Fatoumata Nafo-Traore, regional director for Africa for the International Federation of Red Cross and Red Crescent Societies.
In March, Cyclone Idai caused massive flooding in Mozambique — killing hundreds of people, displacing thousands and leading to outbreaks of cholera.
rs,dj/rc (AFP, dpa, Reuters, AP)