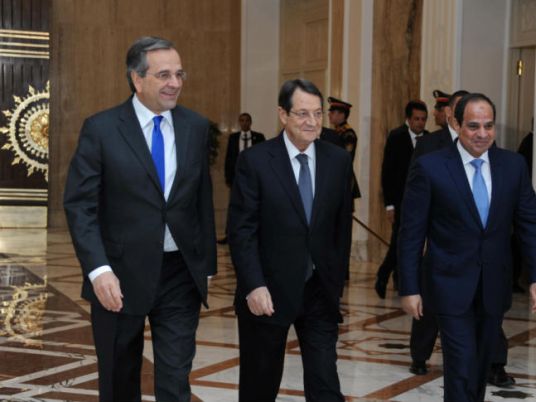 Cyprus is ready to represent Egypt in European institutions, including the European Parliament, said President of Cyprus House of Representatives Yiannakis Omirou in a statement to journalists, Tuesday.
This followed a meeting between Omirou and President Abdel Fattah al-Sisi at the Ettehadiya Presidential Palace in Cairo.
Omirou expressed his approval of the deep relations between the two countries, adding that this is a golden age for Egypt and Cyprus as they gather momentum in all fields.
His comment comes in the frame of the recent defense agreement signed between Egypt and Cyprus under Sisi, as well as the trilateral cooperation between Egypt, Cyprus and Greece in the fields of tourism, energy and agriculture.
In his statement, the Cyprus official added Egypt, along with other Arab countries, to the number of European countries suffering from the current immigration crisis.
Omirou thanked the Egyptian people and government for backing Cyprus against Turkey in the countries' dispute over an island in the Mediterranean Sea.
He stressed the importance of the summit scheduled to be held in Cairo in June between Cyprus, Greece and Egypt. Omirou said the summit would stand out from previous summits thanks to specific projects for cooperation between the three countries in energy, tourism, agriculture, fisheries and education sectors this year.
Sisi received Omirou along with Foreign Minister of Burundi Alain Aimé Nyamitwe and Chairman of the Lebanese Parliament and Chairman of the Arab Parliamentary Union, Nabih Berri, on Tuesday at the presidential palace in Heliopolis.
Edited translation from Al-Masry Al-Youm