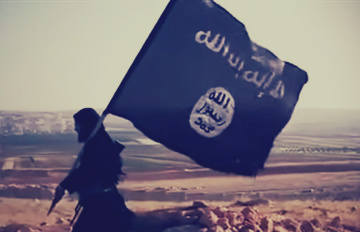 The "Islamic State" (IS) militant group now controls less than seven percent of Iraq, down from the 40 percent it held nearly three years ago, a military spokesperson said Tuesday.
"Daesh controlled 40 percent of Iraqi land" in 2014, Brigadier General Yahya Rasool, the spokesperson of the Joint Operations Command that coordinates the anti-IS effort, told reporters.
"As of March 31 [this year], they only hold 6.8 percent of Iraqi territory," he said.
Photo shows Iraqi forces in March, holding an Islamic State (IS) flag, as they advance northwest of Mosul during the battle to recapture the city's western region from the militants (Mohammed Sawaf / AFP).