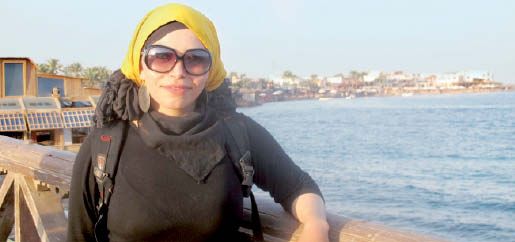 She takes her clients to another world — one in which, as if traveling to outer space, visitors must wear special suits and carry equipment in order to breathe. Humans weren't built to maneuver in this landscape without assistance.
As a divemaster, Suezett al-Fallal, 27, is responsible for the safety of the tourists she leads to submersion, so must remain hyper-vigilant of their well-being. But when she goes on dives, the glimpses of marine life, the sensation of buoyancy and the quiet of the Red Sea lead her to imagine that she is the only one around.
"I feel a bit alone," she says.
Fallal, originally from Cairo's Nasr City district, moved to Dahab last April to realize a dream. "I wanted to be a divemaster at 18," she says from a café overlooking the Red Sea and a not-too-distant Saudi Arabia. "It was my first target as a job."
While plenty of Egyptian men and foreigners of both sexes work in Dahab's numerous dive shops, taking the town's visitors to its famed dive sites, Fallal represents something new to the scene. She is Dahab's first resident Egyptian, or even Arab, veiled woman divemaster.
Hamdy Anan, co-owner of Shams Dive Center — one of the five dive centers where Fallal works — oversaw her three-month training to become a licensed divemaster.
Anan, 33 and originally from the Delta city of Mahalla, has seen Dahab slowly develop into the international diving hub it is today. Reflecting on the 17 years he has lived here, he says, "For [this] long period of time … [there was] no Egyptian female diver."
Fallal is initially hesitant to be interviewed by Egypt Independent, saying she does not believe that being Dahab's first Egyptian woman divemaster is worthy of a profile.
"I'm not Baumgartner, who jumped out of outer space," she says, referring to the Austrian man who recently broke the sound barrier on a 39-km skydive to earth.
"Wallahi (I swear to God), I'm doing this for people who might read it," she says, justifying her decision. "Maybe a girl will read it and [decide to] do something that she really likes, and someone who thinks negatively about Muslims will read it and change his mind."
She admits she faced several obstacles in pursuing her ambition. "It's hard for Egyptian women to travel and live on their own," she explains. "If you move to a place like Dahab, where there are no [Egyptian] women, people will judge you."
Her tone exudes a confidence in that tricky business of defying conventions. There is also the factor of physical strength and stamina necessary for diving. "It's heavy-duty stuff," Fallal says.
She talks about having to carry not just her own nine-and-a-half-kilogram air tank, but also that of a customer who was unable to carry her own. Fallal is no stranger to rigorous activity. She was a personal trainer at several gyms in Cairo before moving to Dahab. She was also an assistant coach of parachuting at a club organized by the Egyptian military.
But personal training and parachuting are only part of her story. Fallal also has a degree in cinematography, and has worked as a stylist and camera assistant in the film industry. She left that field due to her personal convictions.
Fallal says the film industry does not use its potential to affect society in a positive way. "In Egypt, not a lot of people read," she says. "They watch movies." She ultimately left because she felt it "use[s] women to degrade women. … It's against my religion and against my principles."
Fallal became a devout Muslim four years ago. She keeps her hair, arms and legs covered, even as she braves the Sinai desert heat on her bicycle, with an overstuffed bag strapped to her back. When underwater, she dons a wetsuit that allows for the same level of coverage.
"I'm a feminist," Fallal says, adding that she finds inspiration from the women of Islamic history.
Some of her European clientele have questions about Arab women and Islam. Fallal takes advantage of these moments to explain her culture. "If people ask about deen (religion) or hijab (veil), I answer," she says, "and I think I am doing something good for my religion — not on a big scale, but I'm making a difference."
Fallal still has many more goals she hopes to achieve, including becoming a dive instructor and opening her own dive center, becoming an underwater photographer and even learning to sew so she can design and make her own clothes.
For now, she is still settling into Dahab and its diving culture. Fallal says she has found support and acceptance over time. As for her relationship with the other divers in town, she says, "I'm like their little sister."
And when preparing for her next dive, like Baumgartner, she must gear up before entering an atmosphere for which humans were not made. "I love it," she says. "It's addictive."
This piece was originally published in Egypt Independent's weekly print edition.