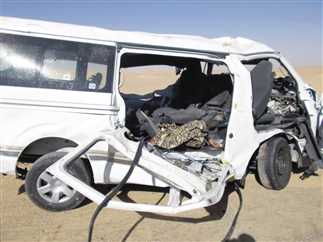 The number of victims of a desert road collision between two microbuses at the Benban village in Aswan increased to four deaths after a 70 year old woman died in the reception department of the hospital.
The accident left 24 people injured. These included a 45 year old man who suffered a fracture with dislocation of the seventh and eighth dorsal vertebrae, dislocation of the left thigh joint, a blood collection in the abdomen, and pulmonary leakage in the chest.
The second is a 30 year old man who suffered from a fracture in the right thigh.
The third is a 23 year old woman who suffered from a internal bleeding in her abdominal mass and laceration of the spleen. Her general condition is unstable.
Edited translation from Al-Masry Al-Youm