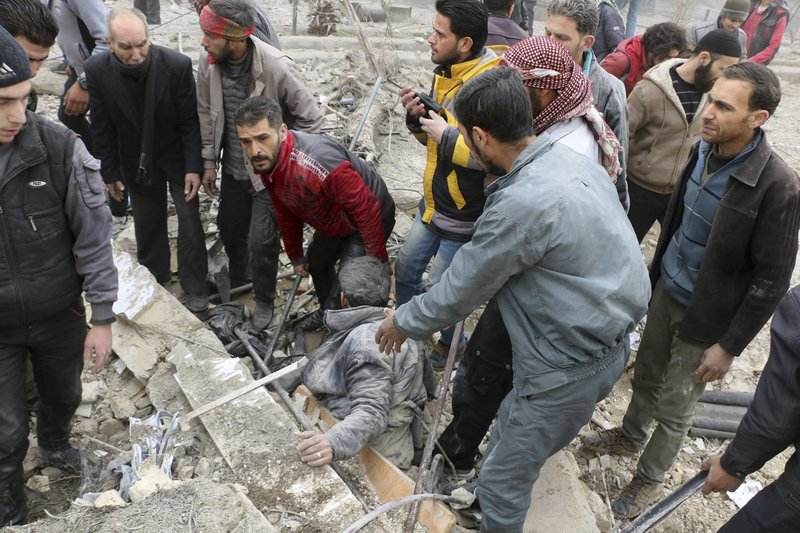 New airstrikes launched by Russian and Syrian government forces on a besieged rebel-held region east of Damascus killed at least 10 people on Wednesday, opposition activists said, part of an ongoing aerial campaign that has killed dozens of civilians in the past few days.
Around 60 civilians were killed Tuesday in airstrikes and shelling that overwhelmed rescue workers and prompted calls for an immediate cease-fire that would allow the delivery of critical medical care.
The opposition's civil defense workers, known as the White Helmets, said 10 civilians were killed on Wednesday and many were wounded after warplanes targeted the town of Hamouriyeh, causing a building to collapse over its residents' heads. The Syrian Observatory for Human Rights reported an overall death toll of 23 civilians for Wednesday, which it said raised the number of people killed in the area since January 29 to 384, including 94 children.
The Eastern Ghouta region, just east of the capital of Damascus, is home to nearly 400,000 people trapped by the violence and a tightening siege. The area has been under intense attack since the end of December as the government of President Bashar Assad struggles to bring it under control.
The punishing campaign by the Syrian government and its ally, Russia, has also battered the northwestern province of Idlib, the largest area under opposition control in Syria. The Idlib offensive has hit hospitals and residential buildings, and has intensified after Al-Qaeda-linked militants in Idlib shot down a Russian Su-25 fighter jet near the town of Saraqeb over the weekend.
The children's organization Save the Children said in a statement Wednesday that the escalation in the opposition-held enclave of Idlib is placing thousands of children in extreme danger.
It said more than 30 schools supported by Save the Children and its partners in the area have had to close temporarily due to security fears. Hundreds of families, many of whom have already been displaced and left living in tents that provide no shelter from bombs or shells, have come under increasing fire and have been left with almost nowhere left to turn, it added.
"Children and their families are fleeing in the hope of finding safety and help, but now the bombs are following them even into the camps and hospitals. They are fast running out of places to go," said Sonia Khush, the organization's Syria response director.
Meanwhile, France's foreign minister said Wednesday that Assad's government is likely using chlorine gas in its latest attacks on rebel-held areas.
Jean-Yves Le Drian told BFM TV that "all indications show us today that the Syrian regime is using chlorine gas at the moment."
A UN-mandated investigator said Tuesday his team was probing reports that bombs allegedly containing weaponized chlorine have been used on two recent occasions in Syria.
"An investigation has been opened on that matter by the United Nations," Le Drian said. "The threat of using chemical weapons remains, this is a very serious situation."
The global chemical weapons watchdog said Wednesday it is investigating recent allegations of chemical weapons use in Syria. In a statement, the Organization for the Prohibition of Chemical Weapons said its fact-finding mission is "investigating all credible allegations" and reporting its findings to the organization's member states.