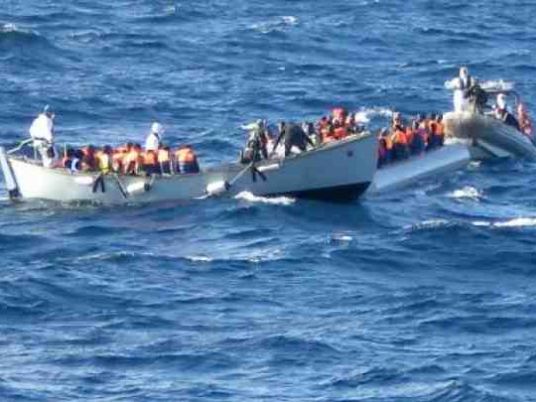 The brother of a 13-year-old boy who made the perilous crossing from Egypt to Italy by boat last week to get urgent medical help for his younger sibling has been admitted to Sheikh Zayed Hospital in 6th of October City.
Seven-year-old Ashraf Fouad Youssef Marei, who is suffering from blood cancer, reached international news when his older brother Ahmed was caught illegally entering Italy via boat, hoping to find work to raise the LE50,000 needed to treat Marei.
On Saturday it was announced that Health Minister Ahmed Emad El Deen Rady decided to have Ashraf transferred to the __ specialist hospital in Egypt for treatment.
Ali Abd El Sattar, chief of Metoubes town in Kafr El Sheikh, confirmed that an ambulance was sent to the Marei family home in Al-Gezira Al-Khadraa village near Metoubes on Friday night to transport the sick child and his mother, Samia Ibrahim Mohamed, to the hospital.
The Italian Embassy in Egypt submitted details of the Marei family's whereabouts and full names to the Foreign Ministry, who had been struggling to contact the family since Ahmed was found in Italy due to missing information. The information corrected earlier reports in the media that had given Ashraf the name Farid.
The Italian Embassy announced that the Italy was bound by law to provide the necessary medical attention to Ashraf, as Italian law dictates that any external demand for treatment in Italy must be met, so long as the necessary funding is provided and the medical case can be verified.
The Health Minister quickly decided to have Ashraf treated in Egypt, insisting that there was no need for him to go to Italy as Egypt is more than capable of providing the necessary medical attention. Foreign Ministry spokesman Ahmed Abu Zeid had previously announced that a number of Italian businessmen and families had offered to pay for the boy's treatment.
Ahmed's journey to Italy started in the town of Rashid in the Nile Delta, where he paid human traffickers to take him across the Mediterranean in a boat. He had to swim the last 10 km to the Italian island of Lampedusa, where he was picked up by the Italian authorities, according to Italian media.
He revealed that he was not claiming refugee status but simply traveling abroad to seek help for his sick brother, who suffers from a deficiency of platelets in his blood.
All through the journey, Ahmed preserved his brother's medical documents and blood tests by placing them between his clothes, media reports said.
Ahmed said that his family had already paid a large sum of money for a preliminary procedure to prevent his brother from dying, but now another operation is needed, costing about LE50,000. The father's annual income is only LE3,000.
The brother's heroic story touched the hearts of several prominent Italian doctors, who agreed to perform any medical procedures needed to save Ashraf's life.
Edited translation from Al-Masry Al-Youm