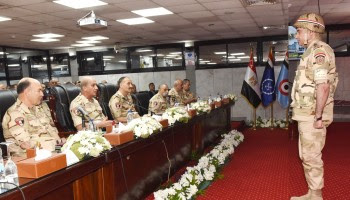 Commander-in-Chief of the Armed Forces and Minister of Defense and Military Production General Mohamed Zaki witnessed the main phase of the tactical command centers project "Amr-7".
This came within the framework of the Armed Forces' strategic training plan for departments.
Lieutenant-General Osama Askar, Chief of Staff of the Armed Forces, chiefs of the Armed Forces main branches and a number of commanders attended the several days' training.
The main phase of the project began with a brief presentation of the operational idea of "Amr-7".
General Zaki discussed with a number of commanders and officers participating in the project the method of carrying out tasks, and how to take a decision to confront emergency situations.
He also conveyed the greetings and appreciation of President Abdel Fattah El Sisi, the Supreme Commander of the Armed Forces.
He further stressed that the Armed Forces are able to protect the homeland and preserve its sanctities with its advanced armament system in all specialties.