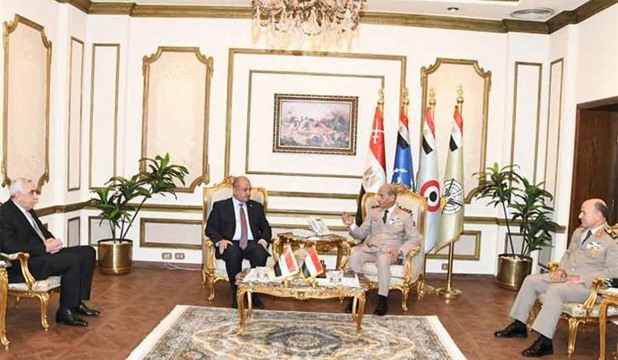 Minister of Defense and Military Production Mohamed Zaki received on Tuesday visiting Iraqi Defense minister Thabet Muhammad Saeed al Abbas and his accompanying delegation.
An official reception was held at the premises of the Defense Ministry's General Secretariat, where the national anthems of both countries were played.
A meeting between the two ministers tackled regional and international developments and their impact on the region's security and stability, amid the current challenges and circumstances.
They probed boosting cooperation in several domains, especially the military ones.
The commander-in-chief of the Armed Forces praised partnership relations between the armed forces of Egypt and Iraq.
Meanwhile, the Iraqi defense minister – who is on a several days' visit to Egypt – hailed Egypt's pioneering regional and international role, voicing hope that the upcoming period would see further cooperation between the armed forces of both countries.
The meeting was attended by Chief of Staff of the Armed Forces Lieutenant General Osama Askar, a host of Egyptian and Iraqi armed forces commanders as well the Iraqi ambassador and the military attache to Egypt.