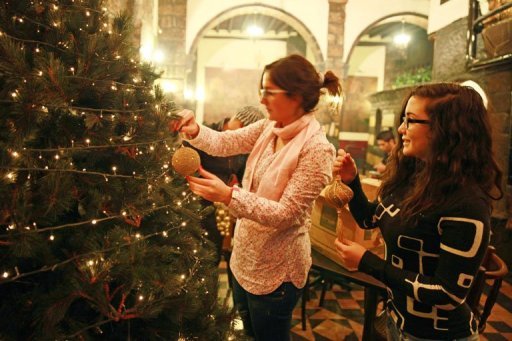 The Cairo Chamber of Commerce's Division of Tools, Stationery and Toys Traders has monitored a remarkable demand for Christmas and New Year gifts in Egypt, reporting a 10 percent increase in the purchase rate compared to the end of 2018.
Purchases rates rose due to the decline in the price of the US dollar, the Secretary of the Division of Tools, Stationery and Toys Traders Alaa Adel explained on Tuesday, adding that most of the Christmas gifts are imported from and made in China.
Christmas gifts range from Christmas trees to Santa Claus costumes, Santa Claus figures, decorations, lighting and gift cards.
The price of a Christmas tree ranges from five pounds to LE5,000 depending on the material and size. There are ones smaller than the palm of a hand, he noted. Families focus on buying a home tree, which ranges from LE50 to LE100.
The price of a Santa Claus mask starts from LE10 to LE40, depending on the material. The price of a full Santa Claus costume starts from LE40 pounds to LE500, he stated.
Adel said that rope lights, decorations, and gift cards are affordable, adding that while Christians are the dominant Christmas celebrators, many Muslim families share their celebrations in Egypt.
The price of the dollar against the pound has witnessed a noticeable decline in banks since the beginning of the year by 181 piasters.
Edited translation from Al-Masry Al-Youm