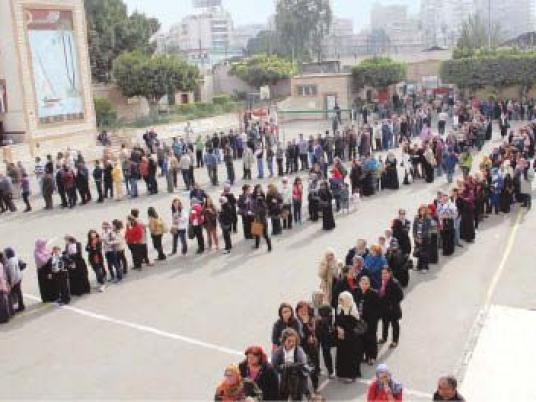 Democracy International, the largest international observation mission monitoring Egypt's constitutional referendum, has released its preliminary findings of the process, emphasizing it has "serious concerns" about the political environment surrounding the referendum.
The organization pointed to a climate of mass arrests of political opposition in the period leading up to and during the referendum, adding that the interim government never truly allowed those who opposed the democratic roadmap to express their dissent. Many activists were detained simply for holding campaign literature urging a "no" vote on the referendum.
"A democratic transition should be characterized by an expansion of freedoms, but Egyptians have seen substantial restrictions on the exercise of their democratic rights," said Eric Bjornlund, DI's president and head of the observation mission in Egypt. "But the post-referendum period offers an opportunity to promote broader political participation."
Though they said the administration of the referendum in general appeared to allow voters to express their views, DI noted other issues with the process. The environment at the polling stations, they observed, showed many signs of bias, possibly influencing voters to cast a "yes" vote on the draft constitution.
Campaign materials, were not only placed directly outside many polling stations, they were also present inside. Observers also noted a heavy security presence inside the polling stations, as well as problems with the layout of the polls, making it difficult for voters to cast a secret ballot.
Though there is no direct evidence that these concerns swayed the public vote, DI said, they do risk the integrity of the voting process, especially in the future if an election is closely contested.
Di concluded that the Egyptian people must be the ones to judge the legitimacy of the process.
"Ultimately, a successful transition to democracy in Egypt will depend on meaningful opportunities for all political forces in the society to participate peacefully in a political process," DI said in their statement. "The interim government and its opponents should seek opportunities to engage in inclusive dialogue that could help bring about broader participation in the political process, including in future elections."