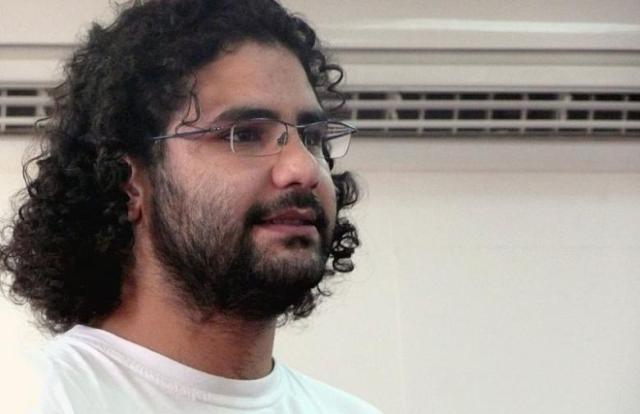 Manal Bahey al-Din Hassan, wife of detained blogger Alaa Abd El Fattah, gave birth to their first child, Khaled, on Tuesday. Abd El Fattah did not witness the birth because the North Cairo Court of Appeals rejected his request to be temporarily released for the occasion.
The baby is named after Khaled Saeed, the young man whose death at the hands of the police in 2010 is seen as one of the factors that sparked the 25 January revolution.
On Sunday the State Security Court extended Abd El Fattah's imprisonment for another 15 days pending investigation. He was detained in October for alleged involvement in clashes outside the Maspero state TV building on 9 October that led to the death of 28 protesters, most of whom were Copts. He is charged with assaulting military personnel, stealing automatic weapons from the armed forces, and inciting violence against the military.
Abd El Fattah was summoned by the military prosecution but refused to answer any questions because he is against military trials for civilians and believes the military is implicated in criminal actions related to the Maspero incident. He was recently referred to the State Security Court after Egyptian and international rights organizations severely criticized trying civilians in military tribunals.
In mid-November Bahey al-Din Hassan, herself an activist and blogger, published a blog entry Abd El Fattah had written from his cell in Tora Prison. His tone was angry and frustrated, and he expressed outrage at not being permitted to attend the birth of his first child.
"Eid has passed and so will my birthday, but I'm used to spending them away from my family," he said. "But how could I miss the birth of Khaled, my first child? How will I tolerate being away from Manal at that moment? How will I be able to wait to hear news that they're doing well? How can I tolerate not seeing the face of my son and the face of his mother when she looks at him for the first time?
"How will I be able to look him in the eye when I had promised him he would be born free? We have decided to name him Khaled to repay Khaled Saeed, to whom we are deeply indebted. But instead of putting those who killed Khaled Saeed in prison, it is we who are in prison!"
He said he finds solace in the fact that activists have expressed solidarity with his cause, and that several protests have swept Egyptian cities in rejection of military trials of civilians.
Numerous activists and political players have criticized the extension of Abd El Fattah's detention.
Translated from the Arabic Edition